About the Cruiser at Heart 
Cruiser At Heart was created and is managed by Robert (Bob) W. Lucas,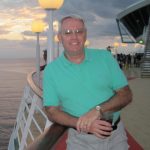 who is passionate about cruising, world travel, meeting people, and sharing information with others. He has visited, lived, and worked in over 50 countries on four continents. He and his wife, MJ, took their first cruise in 1994 and have not stopped since. He shares his travel experiences about the wonderful people and cultures he has experienced, along with tips for maximizing a cruise vacation.
When not cruising, Bob is the President at Robert W. Lucas Enterprises the parent company of Success Skills Press. He is an internationally-known, award-winning author of thirty-nine books, compilations, and video training guides, and has published hundreds of articles on a variety of workplace performance, self-help, and reference topics. His latest book The Complete Guide to Ocean Cruising: Everything You Need to Know for a Great Vacation. During his career as a human resource development professional for over 4 decades, he shared his adult learning and business expertise with thousands of people from around the world. Bob has been listed in Who's Who in the World, Who's Who in America, and Who's Who in the South and Southeast numerous times.