There are 9 essential items to pack in your cruise carry-on bag. Whether you are a first-time cruiser or one who has cruised previously, you should plan to take these items with you when boarding a cruise ship. This is important because after you drop your check-in luggage with the porters at the cruise port curbside, you will not see the bags again until they are delivered to your cabin late in the afternoon on embarkation day. On many ships, you normally gain cabin admission around 1 to 1:30 p.m. if your ship departs between 4:30-5:00 p.m. This is especially true on large ships boarding 3,000 or more passengers. For that reason, you should keep any valuables or things that you may need or want in your carry-on bag.
The is a listing of 9 essential items to pack in your cruise carry-on bag to ensure access to and protection for them.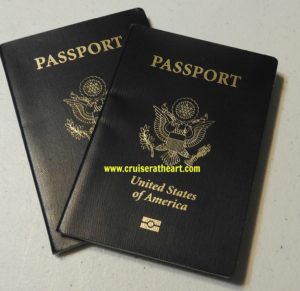 Passport, Birth Certificate, and Cruise Documents. Always keep your necessary documentation with you since you cannot get onto the ship, buy an airline ticket home in case of emergency, or enter the U.S. without a passport, birth certificate and identification card and birth certificate. You also need all the cruise documents that you download from the cruise line website to get through the embarkation process. Putting all your transportation (e.g. airline or train) tickets, sailing documents and passport into a folder or envelope helps ensure that they are readily available when you get to the embarkation building at the cruise port. Being behind someone who has not organized needed materials is frustrating and can lead to unnecessary stress. Do not be that person in front. Always pack the items
Valuables. It goes without saying that you should never put any jewelry, electronics or other expensive items in your checked bag. Always put them in your carry-on and make sure the items are in a place that is not easily accessible by someone else.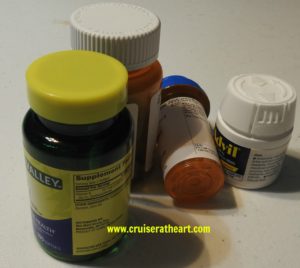 Medications. Carry any medicines needed on your cruise with you when you board. When packing prescriptions keep them in original bottles with the pharmacy label intact to prevent problems with customs or in case you need a refill during your trip. You may want to bring along enough of each prescription to last for at least a couple of extra days after your cruise. This is a contingency plan in case something unexpected occurs and you are delayed getting home. Similarly, leave over-the-counter drugs in original packaging and make sure that they do not contain any ingredients prohibited in countries where you will be getting off the ship with them. Check the legality of your medicines against the listing on the Center for Drug Control site https://www.cdc.gov/features/travel-medicine/index.html to avoid problems.
Change of Clothing. If you are going from a cold to warm climate or vice versa on your cruise, pack a change of clothing in your carry-on. Once onboard, you can make a switch and get comfortable. This includes bathing attire if the weather is nice enough for a dip. Embarkation day is typically one of the few days that the pool is not overwhelmed with people. While other passengers are checking in, you can take advantage of starting your cruise by catching a few rays while slurping down one of the specialty drinks sold on the first day.
Sun Protection.  If you plan to hit the pool area, do not forget to put sun protection (sunscreen oil, sunglasses, and hat) in your carry-on bag. Towels are provided in the pool area, so no need to fill up your bag with those.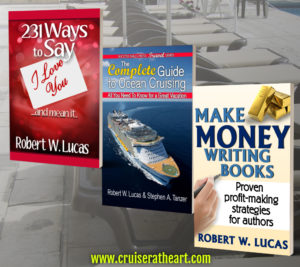 Reading Material or Craft Items. While you are waiting to get into your cabin on embarkation day, you might want to relax and read a book or work on a magazine puzzle. You may also enjoy crocheting or knitting. If so, put your materials in the bag with all your other embarkation goodies. Some experienced cruisers also pack a deck of cards and pad of paper with a pencil so that they can find a quiet place to play cards to occupy themselves.
Electronic Devices. Put any electronic devices you plan to bring aboard in your carry-on as well. This gives you immediate access and provides security. Once you settle in onboard, you might want to check email or text messages, work on a project, or read something electronically. You may also want to do a bit of gaming to entertain yourself or any children who are traveling with you.
Personal Items. Do not forget to stash your favorite deodorant, toothpaste, toothbrush, feminine products, or other such items in your carry-on bags. While not common, something might delay your checked bag from arriving in your cabin in a timely manner. Along with other essential items to pack in your carry-on bag, do not forget your favorite personal items. These items might come in handy if there is an unusual delay in receiving your checked baggage.
Alcohol or Other Drinks. Some cruise lines allow you to bring a limited quantity of alcoholic beverages, soft drinks, or water onboard. Check the cruise line website for policies on bringing beverages aboard. Carry allowed quantities with you at embarkation rather than packing in your checked luggage. This helps prevent breakage or leakage and damage to your packed clothing.