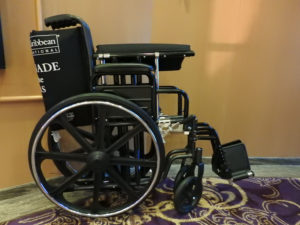 The best cruises for passengers with special needs are those which provide features and services to facilitate passenger movement and satisfaction. Not all ships are equal in accomplishing these goals.
Cruising with special needs can bring a whole litany of challenges. This is because foreign flagged ships and ports of call may not adhere to legal standards related to accommodations for people with disabilities. They do not always adhere to the same guidelines that most passengers come to expect at home. Because of this, anyone with a special need should take the time to do a little extra research. Before you or someone traveling with you books a cruise take time to plan before purchasing. Doing so can help ensure that you have the best possible cruise experience.
The following points are things to consider in order to get the best cruises for passengers with special needs.
Choose the Right Ship
There are many choices of accessible cruise ships from a variety of cruise lines. The key to getting the right one to fit your needs is to do a bit of research. By asking your cruise advisor or cruise line representative before booking a specific vessel. Often, the challenge is finding an itinerary and cabin that fits your needs. A secret is to book as far in advance as possible. This is because each ship has a limited supply of accessible staterooms and they are in high demand. You will have a better chance of getting the cabin that you need by claiming yours as soon after an itinerary is announced as possible.
Newer ships often have features designed to maximize comfort and accessibility by all passengers. Older ones may not be as accessible unless they have been refurbished to include accommodation features. Even ships owned by the same cruise line may vary. Read the ship descriptions on cruise line websites closely to ensure that the one you are considering will meet your needs. One thing to keep in mind is that your personal accessibility equipment must fit into your stateroom. This is important since safety protocols, wheelchairs and other accessibility equipment should never be left in passageways.
For additional information about ships that offer accessible features visit the following websites.
Common Accessibility Features
Many ships have been built or refitted to include areas that are accessible for passengers with a variety of special needs. When assessing whether the ship you are considering can provide the best cruises for passengers with special needs, use the following checklist of accessibility features. If there are additional accommodations that you or another person in your party require, contact a cruise advisor or cruise line representative. Before booking, ask about their experience in booking cruises for special needs passengers.
Accessible staterooms and public venues.
Accessible and designated disabled seating in dining rooms.
Special meals for passengers with food allergies and other medical conditions.
Braille menus in restaurants.
Wheelchair accessible service desks and counters.
No threshold doorways.
Elevator control panels accessible from a wheelchair or scooter.
Braille elevator call buttons and direction panels throughout the ship.
Audio alerts identifying floors in elevators.
Automatic doors at public restrooms.
Lifts to enter and exit a pool or whirlpool.
Amplified personal listening assistance systems in entertainment venues.
Designated seating for wheelchairs and caregivers in restaurants, theaters, and other venues.
Accessible casino tables and slot machines.
Sign language interpreters at shows and other venues.
Recorded books in libraries.
Ensure Cabins Are Accessible
Modern ships have specially built accommodations for people with disabilities. The number and location of these vary by ship. If you or someone in your party needs such a cabin, book your cruise as far in advance as possible and notify your cruise advisor or cruise line representative of your needs. To qualify for such accommodations and additional special assistance, the cruise lines require that a Guest Special Needs Form be completed when booking. This helps to ensure that people with special needs get the limited number of cabins. Some passengers attempt to get these cabins simply because they want a larger stateroom.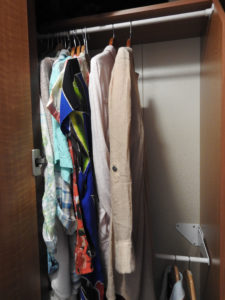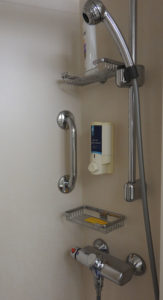 Cruising with special needs can have an unexpected benefit. That is because accessible cabins are larger than standard cabins. This is to allow movement with wheelchairs, walkers, and canes within the stateroom. Larger cabins also provide more storage space. Additionally, they are close usually closer to elevators and typically have all or most of the following features:
Wider, no-threshold doorways to allow wheelchair access to cabins and bathrooms.
5-foot turn radius in accessible cabins
Lowered sinks, towel rods, safes, and stateroom vanity areas.
Grab bars in the shower, bathroom, and cabin.
Closets designed with lowered clothing bars accessible from a wheelchair.
Roll-in showers and bathrooms.
Shower and toilet grab bars.
Hand-held shower head.
Bath distress alarms.
Fold down shower seats.
Toilet height extenders.
Open frame beds.
Bed shaker notification system.
Open captioning on stateroom televisions. (Due to satellite reception, this feature may sometimes fail to function).
Visual-tactile alert kit to alert passengers to smoke alarms, door knocks, alarm clock, and ringing telephone.
Teletypewriter (TTY) devices to communicate with the Guest Services Desk 24 hours a day.
There are many other considerations for ensuring that that you book the best cruises for passengers with special needs. Those will be addressed in other articles on this blog. If you have additional points related to the above lists that you would like to share, please send them to info@cruiseratheart.com.
For additional information on maximizing your cruise experience, get a copy of The Complete Guide to Ocean Cruising: Everything You Need to Know for a Great Vacation.