Here Are Some Tips for Finding Your Way Around a Cruise Ship
Finding your way around a cruise ship can be difficult and frustrating for even the most experienced cruisers. Getting lost on one of the large ocean-going ships of today happens to most cruisers on any voyage. This is especially true at the beginning of a cruise. It typically takes first-time cruisers (and many experienced ones) several days to get their directional footing. Luckily, there are several techniques and resources to help minimize the confusion and get you where you want to go onboard. Additionally, cruise lines provide several useful tools to assist you in finding your way.
Here are some strategies to help you in finding your way around a cruise ship while on vacation.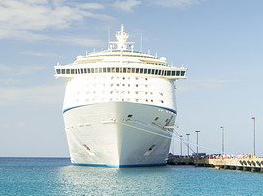 Determining Port and Starboard
To help you navigate the interior of any cruise ship, first determine where the front of the ship (bow) is located. Once you do that you can then easily determine on which side of the ship your stateroom is located.
In nautical terms (on any type of ship or boat), there is a starboard and port side. This has nothing to do with which side of your vessel ties up to a physical port or dock. It refers to on which side of the ship you are standing when facing forward on the vessel. Starboard cabins are always on the right side. Port cabins are on the left as you face forward. An easy way to remember on which side your cabin is located is that the word port has four letters and so does the word "left." Starboard has more than four letters and so does the word right. Compare your cabin number to one of the handy deck plans or diagrams found near stairways or elevators. It will show cabin numbers located on your deck. Even numbers will be on one side and odd on the opposite.

Maps
When you first come aboard your cruise ship, crew members on many ships often pass out handy little pocket-sized maps. The helpful guides make finding your way around a cruise ship much easier. If they do not have these, go to the customer service desk and ask for one. Carry the map around with you for several days until you become oriented to where things are located onboard. Unfortunately, not all ships have these useful tools.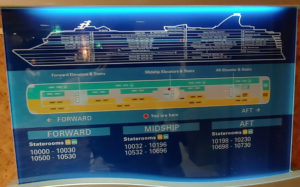 Plexiglas Deck Plans
Most of the major ships have Plexiglas deck plans mounted outside of elevators or near stairways (ladder wells) on each deck of the ship. To find a deck plan all you need to do is find an elevator or stairway. Both are normally near one another. Take a quick photo of this diagram with your cell phone camera and carry it with you.
Cabin Deck Maps
On most ships, there should be an emergency escape deck diagram on the back of your cabin door. It indicates where you are located, your emergency muster station, and the floorplan for the deck on which you reside. This is useful as a quick reference for indicating the front of the ship and finding the elevators and stairways as you head out of your cabin. FOllowing such prompts help make finding your way around a cruise ship fairly simple.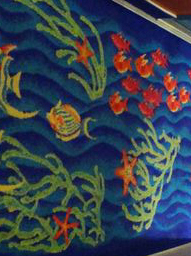 Posted Clues and Guides
Some cruise lines have simplified directional processes to help you identify where they are headed while onboard. Depending on the ship on which you are cruising, you will find signs, arrows, and other handy directional tools. For example, when cruising on Disney Cruise Lines, you can find carpeting with arrows or north pointing maps that direct you to the front of the ship. Norwegian provides swimming fish on its passageway carpets for the same purpose. If you are "swimming with the fish" then you are headed toward the ship's bow. On Royal Caribbean and Celebrity ships, you may find small arrows on cabin doors that point you towards the middle of the ship. On other cruise lines (e.g. P&O) stairway carpeting is color-coded to help passengers recognize whether they are in the forward, middle or aft portion of the ship.
Another directional indicator can be found by observing cabin numbers as you move down a passageway. If they are getting higher, you are heading away from the front of the ship and toward the aft section of the vessel.
Once you settle in on embarkation day, ask a crew member for tips on ways to better navigate the ship. Use your new-found knowledge to go explore your ship.
Touch Screen Electronic Information Boards
Some of the newer ships have installed electronic touchscreen information boards throughout the vessel by elevators, stairways and near main restaurants. To determine your location, where you want to go, and read information about the ship (e.g. restaurant menus, daily activities, and various entertainment venues around the ship), just tap the screen, select your desired destination and the requested information should appear. You can then select an option to map the direction for you on the screen. Take a quick photo of this map with your cell phone camera and you have a ready-to-go tool in your pocket.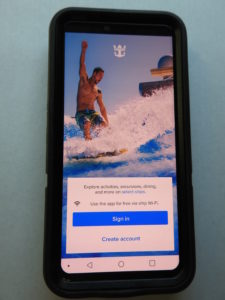 Smartphone Applications
Many of the cruise lines have created a handy electronic application (app) for your cell phone. Some cruise lines charge a small activation fee and others do not, depending on what level of functioning you choose to use on the app. Several cruise lines allow texting and voice communication with other group members aboard who have also downloaded and activated the app. Check to see if your ship has an application and download it before embarkation day.
In addition to providing information about ship layout, apps allow you to access a listing of the day's activities, purchase ship's services (e.g. Wi-Fi plan, spa services, or excursions) and search other helpful information. These applications do not use the ship's Wi-Fi network and you do not need to access your cell phone service. Stay in airplane mode to avoid roaming costs.
Cruise vacations are a lot of fun and can provide great memories. With a little advance research and planning, you can learn to better navigate your ship and enjoy the many features and activities it offers with ease.
For many more creative tips and ideas that can enhance any cruise, get a copy of The Complete Guide to Ocean Cruising: Everything You Need to Know for a Great Vacation. Available online or through your favorite bookstore.