Memories Of Cruising To Bermuda
Enjoy reading about my memories while visiting the beautiful island of Bermuda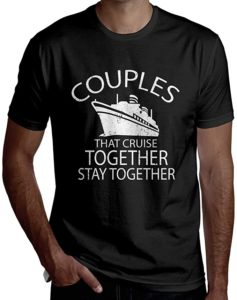 The island of Bermuda is often lumped in with ones in the Caribbean area. In reality, it is approximately six hundred miles from the coast of North Carolina in the Atlantic Ocean. Even so, it has many of the wonderful characteristics of a Caribbean island. These include a warm climate, soft sand beaches, welcoming people, and a colorful history. With a history dating back to the 1600s, beautiful beaches, and golf courses, this destination is popular with many cruisers returning multiple times. This self-governing British territory is a favorite site for vacationers, especially cruise passengers.
Even though the island's government controls the number of cruise ships that dock in Bermuda each year. However, since it is within easy access to the east coast of the United States, there are quite a few cruise ships that make the journey annually.
Most cruises visit Bermuda between April and mid-November, while a few arrive in March and December. Peak periods for visitors to the island are April through September, with March through May being some of their rainy months. Ships sail from ports, such as Florida, New York, Boston, Charleston, and New Jersey in the United States each year. Many veteran cruisers stay overnight for several days during a cruise. To get an idea of which ships travel to the area and the length of their stay, visit their ports schedule (updated yearly) at http://marineandports.bm/.
Memories of Cruising by the Cruiser at Heart
Since Bermuda is a location that my wife and I have discussed visiting for decades, I surprised her with a cruise to that beautiful island for our 30th anniversary in November 2018. We intentionally chose a cruise ship that was scheduled for nearly three days at the port of Kings Wharf. The ship was the Carnival Ecstasy and we cruised from the historic city of Charleston, South Carolina. We decided to spend two lovely days in the historic Palmer's Pinckney Inn bed and breakfast before boarding the ship. Built-in 1868, the house has an aura of its own. You can almost hear the stories of people who have occupied the house of over one hundred years.
We enjoyed the itinerary, which consisted of travel to and from Bermuda and nearly three days spent in port. The island has many of the features you find on many other islands you can visit in the Caribbean region — beautiful waters, beaches, and friendly people are commonplace. Even so, we thoroughly enjoyed our round the island excursion with a stop at their historic lighthouse and several other historic areas.
Every vacation has a moment…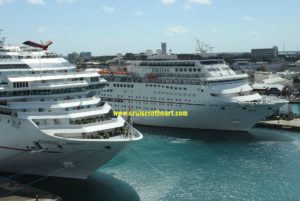 On our 2nd full day, we took an inexpensive water ferry across the sound to the capital city of Hamilton. Quite honestly, this was a bit disappointing. Why? Because it was little more than a metropolitan city on the waterfront with only a few historic buildings. These buildings included the State House built in 1816 and the Cathedral of the Most Holy Trinity completed in 1969.  There are several museums, but we chose not to spend our time on the island reading all the exhibit signs in Hamilton's museums. That was because we had planned to spend our final afternoon on the island wandering through the old fort at King's Wharf, which is now the National Museum of Bermuda.
In that facility, there are numerous enlightening exhibits that cover the island's history from early discovery days through recent history. They also have a dolphin discovery training area where visitors can get a close-up look at these marvelous mammals. In the evening afternoon, you can wander around the wharf area through a variety of shops. You can also sample local cuisine at one of their bars or restaurants. All-in-all, our decision to visit the former British colony was a good one and worth your consideration, especially if you like water activities.
Thanks for reading this blog article
You can view a cruise line before meeting with your travel agent to learn about the various options for your next cruise.  Please note, your travel agent can help you confirm everything and also get you great deals not available via the cruise company's website. Here is a list of some of the most popular cruise companies…
Norwegian Cruise Lines – ncl.com
Royal Caribbean – royalcaribbean.com
Carnival Cruise – carnival.com
Viking Cruises – vikingcruises.com
Thank you for reading the "Memories Of Cruising To Bermuda" blog article. We hope it has helped first-time cruisers and those that may have had a bad experience with cruising in the past. Maybe these articles can get ready for their next big cruise vacation. Did you want some useful cruise vacation books to read – click here.