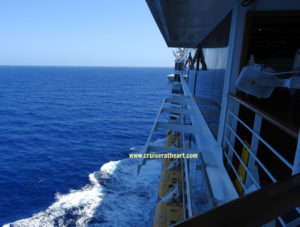 Solo Cruising Is a Trend That Is Here to Stay
Cruising solo is a trend that is here to stay and has become a popular means of vacationing for many people. The result is that cruise lines have taken notice and created news spaces and activities that will attract people who are cruising alone. One of the first cruise lines to address the needs of single passengers was Norwegian. While their solo Studio cabins tend to be a bit small, with up to 100 sq. ft, they do not charge the expensive single supplement that most other cruise lines assess when passengers travel alone. An added advantage on several of their ships is that they have designed a separate Studio Complex and Lounge area. It can only be accessed via a key card by passengers residing in their studio cabins. While in that area, visitors can chill out while they watch the big-screen TV, mingle with other solo passengers, have a drink, or order room service. Assigned concierges orchestrate events for singles by hosting a nightly happy hour, arranging specialty dining and show reservations and overseeing replenishment of lounge drinks and snacks. They are also on hand to answer questions for solo passengers.
Other major lines like Royal Caribbean, Celebrity, Cunard, Holland America, Crystal, Costa, P&O and Fred Olsen have followed Norwegian's lead by spending millions of dollars retrofitting and building ships that accommodate the growing sector of single travelers. They are including more solo cabins in ship designs onboard many of their vessels and adding features and activities to appeal to people who love cruising solo.
The industry shift in marketing strategy makes financial sense because the number of people cruising these days now exceeds 30 million. According to Statista.com, that number is up from a little over 19 million a decade ago. Cruise lines report that solo travelers make up as much as 20% of their passenger numbers each year. Many of the people traveling alone are either millennials, retired, divorced, never married, or cruising alone after losing a loved one. Additionally, the number of female solo travelers is growing each year. To attract and accommodate single cruisers, cruise lines are continually updating and tailoring more onboard activities and excursions to cater to this demographic.
If you are one of the people who enjoy cruising or traveling alone, the following aspects can make your trip more economical and enjoyable.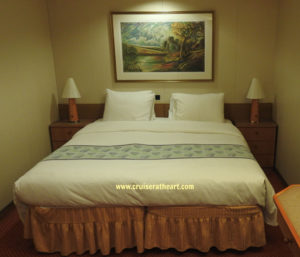 Booking a Solo Cabin – Solo Cruising 101
Cruise ships like to sell their cabins based on double occupancy with at least two people per cabin. This is because if only one person occupies a cabin, they potentially lose money when there is one less person onboard to buy drinks, photos, merchandise from shops, gamble, take excursions, and eat in specialty restaurants. To dissuade people from traveling alone in a traditional cabin, they charge a "single supplement" of typically 125-200% of the published cabin rate to offset their potential financial losses. In some instances, a cruise line will reduce or eliminate the supplement in order to fill the ship, but this is not a common practice on most cruise lines.
As an alternative to having to book a standard cabin, there are a limited number of solo cabins on most mass-market ships like the ones you read about earlier. These cabins are generally priced higher than the per person rate for standard cabins but less than the cost of one person paying a single supplement in such cabins. Since there are only a limited number of cabins designed specifically for single passengers, you should book your desired cruise as soon as your desired itinerary is announced. You can check with an experienced cruise agent or cruise line representative to determine the best time and availability for making such a booking.
Among other things, solo cruising cabins sell out quickly for the following reasons:
Current travelers book their next cruise while onboard a cruise with the same line.
Travel agents book groups of singles on the same ship and take up all spaces.
Ships are traveling to popular locations.
Your desire to travel to a destination during a heavy travel season.
An option to booking a solo cabin, you can always book a standard cabin. However, the downside is that cruise lines typically charge upwards to double the rate for one passenger by way of a single supplement mentioned earlier. If you have some flexibility in the dates and location you want, consider booking an interior cabin and paying the single supplement as a viable alternative to booking a solo cabin. This is because solo cabins tend to be priced at a premium and discounts are less likely if the ship is selling out of space quickly. Plus, cruise lines often reduce double occupancy cabins when they have trouble filling them. Another strategy is to wait until closer to a sailing time to book. In such instances, you might be able to snag a reduced rate standard cabin that has more space than a solo cabin at a higher cost per foot rate. Of course, the risks are that the ship will either sell out of cabins or you will not have the choice of a preferred cabin type or location.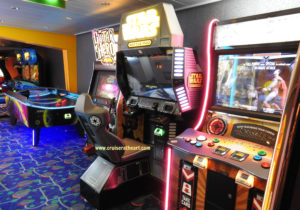 Things to Do Onboard – Solo Cruising Ideas
Some people worry that if they travel without a companion, that they will be lonely or not have anything to do. Others want to travel alone so that they can have some "alone time." The nice thing about cruises (especially the large ones being built today) is that you can do as little or as much as you like as a solo passenger. It all depends on your preferences.
Sailing aboard one of the beautifully appointed ships that ply the seas and oceans of the world can be extremely exciting and fun as a single traveler. Cruise lines go out of their way to provide a long list of activities that start early in the morning and continue until late at night. Whether you want to participate in active fitness, yoga, or dance sessions or use different features on the ship, you get to choose. Some options include using the pools, waterslides, spas, a rock-climbing wall, miniature golf, ice skating rink, bumper cars, and many other entertaining, fun activities. If you prefer more sedate distractions, there are often cooking, computer, or camera classes, board or card games, trivia contests, bingo, gambling, working on a jigsaw puzzle, reading, or other more relaxing options. No matter what your preference you can usually find them on most ships. You can do all these things while meeting and engaging as many or few people as you like. The bottom line is that there is something for everyone. Simply make a list of your preferred activities and then speak to a cruise advisor or cruise line representative to explore your ship options.
Since the single male-to-female ratio is typically lower, especially among older passengers, some cruise lines (e.g. Cunard, Regent Seven Seas, and Crystal Cruises) provide lady and gentleman ambassador hosts on some of their ships. These supplemental staff members are often between the age of 40 and 70, semi-retired and retired, well-groomed, and good conversationalists. Other lines (e.g. Costa) use their younger onboard dancers and entertainment staff as nightly dance partners in lounges on some ships. This is done to help ensure that passengers without partners have ample opportunity to enjoy themselves as they twirl around the dance floor. If this is something that you would like to know more about, contact a cruise advisor or the cruise line on which you plan to travel to see if hosts/hostesses will be aboard.
In addition to dancing, these hosts/hostesses might perform other functions, such as, hosting a dining room table for solo passengers, attending cocktail parties, participating in bridge and other games, and going on shore excursions with passenger groups. If you saw the movie "Out to Sea" with Jack Lemmon and Walter Matthau years ago, you have an idea of what these hosts do (and should not do); although, the results may not be as humorous in real life.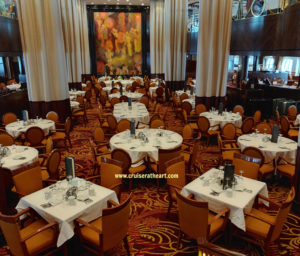 Dining Options – Solo Cruising Meal Planning
Some lines (e.g. Carnival, Holland America, Princess, Celebrity, Royal Caribbean, Crystal, Costa, MSC, and Disney) allow you to select assigned table seating when you book a cruise. My wife and I really enjoy this option and request to sit large tables with other passengers during breakfast, lunch, and dinner. To ensure that we get a larger table, we typically request assigned seating when we book a cruise and once aboard on embarkation day, I head straight to the main dining room to check out our table location. We have met some wonderful and fascinating people from around the world this way. Some have become lifelong friends with whom we visit and who have visited us. A number of these people have been solo passengers who also enjoy getting to know their fellow passengers. If this idea appeals to you make sure you check with the cruise line before you book to ensure assigned seating is offered onboard.
As an alternative to assigned seating, some cruise lines (e.g. Norwegian) have gone exclusively to a freestyle dining concept. This allows all passengers to select their preferred dining time and table size when they book their cruise or on their first day onboard. Other cruise lines offer this approach as an option to assigned seating. With freestyle dining, you can either sit alone in dining rooms or ask to share a table with other passengers. There are usually tables that can seat 2-10 people, so you have options. To help ensure you get a preferred table type, go to the main dining room on embarkation day and speak to the restaurant Maître D. These crew members are very accommodating. If you discover that you connect with passengers at surrounding tables on your first night aboard, you can speak to the Maître D at the end of dinner to sit at the same, or nearby, for the remainder of the cruise. This can often be arranged and allows you to continue to build a relationship with those same fellow passengers.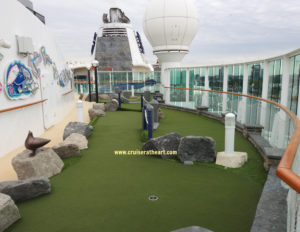 Social Activities – Solo Cruising is Fun
Many passengers start their networking before their cruise even begins. On most cruise line websites, there are electronic messaging boards where scheduled passengers can leave messages. These are great vehicles for posting thoughts about an upcoming cruise, asking questions, or soliciting like-minded people to get together once onboard. For example, if you are interested in a particular hobby, pastime, or sport (e.g. crafting, water sports, basketball, chess, bridge, or miniature golf) you might leave a message inquiring who else onboard might be interested in getting together at a given location aboard the ship. By beginning your networking in advance, you can develop a list of people to meet early in the cruise. Obviously, such meetings should always be in a public location and you should exercise caution until you get to know others.
In addition to all the activities scheduled for the general passenger population, there are often opportunities for different guest demographics to connect. On many ships, there are special events set up exclusively for single passengers (and other groups) to mix and mingle on the first couple nights. This provides a venue where you can get to know like-minded people with whom you can network throughout your cruise. There are also opportunities organized by the cruise line or and others posted on bulletin boards onboard the ship by fellow passengers. Members of different groups (GLBTQ, Friends of Dorothy, Friends of Bill W, and veterans) can gather to network throughout the cruise.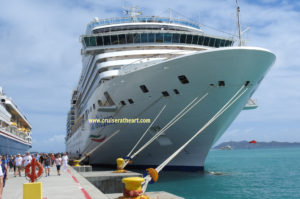 Going Ashore – Solo Cruising Essentials
One of the best parts of cruising is getting to explore new destinations. In doing so, you can meet amazing people, see fantastic sights, eat delicious cuisine, and learn about interesting cultures that you may have only previously read about. By booking shore excursions through the cruise line, you have an opportunity to form relationships with other passengers. Some members of the tour group are usually either solo passengers or are going ashore alone because their traveling mates decided to stay onboard. Either way, in addition to having a fun day and some great photo opportunities, you get to meet as many of your fellow passengers as you like by taking one of these trips. Two advantages of taking a ship tour are that it is being pre-planned for you and the vendors offered by the cruise line have been vetted. An added plus is that if your tour is late in returning, the ship will wait for you. This is not the case if you arrange your own trip.
Should you decide to arrange your own excursions online or at the pier once you dock, be selective and screen those providers a bit before heading off. Read past customer reviews before you book online. If you are on the pier, talk to the tour operators, agree to a price, and check out their vehicle before agreeing to go along with them. If you have met other solo travelers aboard, perhaps you can form a group for a local tour. This often gets you a better rate and provides a degree of safety for you.
The bottom line is that solo cruising is a trend that is here to stay. When traveling alone you can have just as much fun as you can when exploring the world with friends or family. All it takes is a bit of thought, pre-planning, and desire to take advantage of what your ship and destination have to offer.
For additional thoughts on things to do when you are cruising and the entire cruise process, check out The Complete Guide to Ocean Cruising: Everything You Need to Know for a Great Vacation.
About Cruiser at Heart – Vacation Blogger and Award-Winning Author Bob Lucas 
Cruiser At Heart was created and is managed by Robert (Bob) W. Lucas,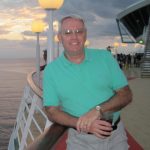 who is passionate about cruising, world travel, meeting people, and sharing information with others. He has visited, lived, and worked in over 50 countries on four continents. He and his wife, MJ, took their first cruise in 1994 and have not stopped since. He shares his travel experiences about the wonderful people and cultures he has experienced, along with tips for maximizing a cruise vacation.
When not cruising, Bob is the President at Robert W. Lucas Enterprises the parent company of Success Skills Press. He is an internationally-known, award-winning author of thirty-nine books, compilations, and video training guides, and has published hundreds of articles on a variety of workplace performance, self-help, and reference topics. His latest book The Complete Guide to Ocean Cruising: Everything You Need to Know for a Great Vacation. During his career as a human resource development professional for over 4 decades, he shared his adult learning and business expertise with thousands of people from around the world. Bob has been listed in Who's Who in the World, Who's Who in America, and Who's Who in the South and Southeast numerous times.