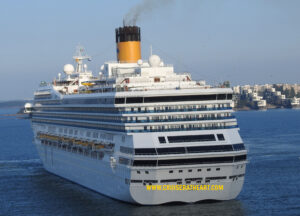 WHEN WILL CRUISE LINES START SAILING AGAIN?
When will cruise lines start sailing again? That is a question that many avid cruisers and others wanting to escape the confinement of their homes often ask these days. The answer is that no one knows for sure when all cruise lines will be able to take on passengers and set sail.
News media sources around the globe have reported the devastating impact of the coronavirus pandemic on the economy and the world. Lives have been lost, routines disrupted, industries and companies have been negatively impacted financially, and people continue to struggle to make ends meet. This is further complicated by the fact that many states and communities are experiencing a rise in new cases of the illness each day.
As governmental restrictions put in place to help curtail the COVID 19 virus spread and save lives are slowly being lifted; there is hope. People are looking forward to being able to return to some form of normalcy. That includes being able to take cruises to explore the world and relax after all the stress and trauma they have endured.
Factors Delaying Cruise Ships from Sailing
The answer to "When will cruise lines start sailing again?" is heavily dependent on many outside factors. Before cruise lines can hit the oceans and rivers again, further restrictions must be lifted.
As of June 2020, Canada and the United States still have no sail orders in place. This means that the countries will not allow cruise ships to enter their territories and dock to take on or disembark passengers. Many European, South American, and Asian countries also have limitations on cross-border and transcontinental travel.
Airlines are taking baby steps in returning to the skies as they implement new health and safety standards. Like the cruise lines, they are struggling for survival. However, until they are fully functional and flying normal routes, it is going to be difficult for cruise passengers to get to their departure ports around the world.
Actions Being Taken to Resume Cruising
Cruise line executives and managers continue to monitor the spread of the COVID virus worldwide. They are working diligently with medical professionals. They want to ensure crew and passenger safety as they plan to resume business. To accomplish that, each company is developing new policies and procedures that will change the face of cruising as it has been known for years.
So, the answer to when will cruise lines start sailing again is…it depends. Ocean cruise lines have projected restart dates ranging from July through November 2020 based on their anticipated destinations. However, with a rise in new COVID cases throughout the U.S and other countries and the warnings of a second pandemic being given, 2021 may be a realistic answer.
Cruise Lines Are Planning for a Restart
Carnival Cruise Lines was hoping to resume limited cruises to the same area in August, but that has now been pushed to later in 2020. Norwegian Cruise Line is projecting limited operations starting after July. Additionally, Cunard has postponed cruises until at least November. Disney has canceled all 2020 European and Alaskan cruises. Other cruise lines offer varying start dates and state that their resumption of operations is contingent on pandemic-related factors. The hope is that there will soon be a vaccine that can reduce or eliminate the coronavirus. Also, that dire predictions of a second wave are incorrect or that the virus can at least be managed.
The good news is that some European river cruises have announced that they will soon resume operations. This is due to some members of the European Union reopening their borders to tourists. Additionally, in anticipation of limited August cruises to the Caribbean area, Royal Caribbean called 150 shoreside workers back to its Miami facility for training and start-up functions.
Even though 2020 may be a washout for cruising, all the cruise lines are optimistic that the 2021 season will be strong. Many cruisers share that optimism. Travel agents and cruise lines are reporting high reservation numbers for the 2021 season. In fact, from the looks of promotions and some of the terrific deals available, now is a good time to book your next vacation.
Cruise lines are offering great rates. Several are even including cruise guarantees. If a scheduled cruise gets canceled, passengers will get a refund or have an option of a 125% certificate on what they paid. That voucher can be used on a future cruise.
Start Planning for Your Next Cruise
Do you need help navigating the cruise process from planning through your time aboard? Do you have questions about all things cruising? If so, check out The Complete Guide to Ocean Cruising: Everything You Need to Know for a Great Vacation. This handy reference provides hundreds of useful and proven tips. It addresses all phases of cruising and provides answers related to common topics, such as:
The best times to cruise
Great destinations
Ways to save money
Secrets for maximizing your time aboard and ashore
Tips for traveling with children, seniors, or guests with special needs
And, much more.
It was written by Robert W. Lucas and Stephen A. Tanzer. They have collectively cruised over one hundred and eighty times on various ships and cruise lines throughout the world. Steve owns a cruise agency.