5 Tips to Help Maximize Your Cruise Experience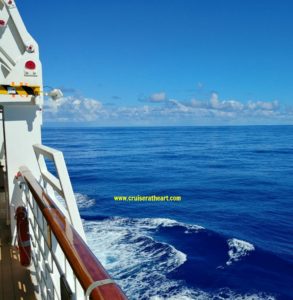 Cruise lines provide a wonderful opportunity to explore the world and have a great time. There are ships of all sizes with amazing amenities and features that surprise and impress passengers. To make sure that your select the perfect ship and itinerary, here are 5 Tips to Help Maximize Your Cruise Experience. These hopefully will help ensure that everyone in your group has the time of his or her life aboard, do a bit of research before choosing your cruise.
Here are 5 Tips to Help Maximize Your Cruise Experience by the Cruiser At Heart – Bob Lucas, Cruise Author, and Blogger
Like any vacation, planning a cruise requires time and effort to ensure that you maximize your investment of time and money. One thing that I have learned on over forty cruises is that advice and guidance from a seasoned cruise specialist is crucial. Failure to carefully choose a competent cruise specialist, ask the right questions, plan a realistic budget, gather pertinent information about ship and destination options, and carefully consider all these elements can lead to a less than stellar vacation outcome.
Here are five suggestions that can help maximize your enjoyment, reduce stress, and save you money when you cruise.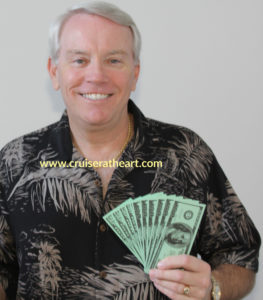 Develop a Budget
Unless you recently hit the lottery, inherited Aunt Matilda's estate, or have done well in the stock market, planning a budget is probably a good place to start before taking a cruise. Many people do their homework on the costs of a cruise before deciding if it is the right time or vacation option for them. Some internet research and a conversation with an experienced cruise advisor can help you determine how much the cruise you are considering will cost. Do not forget to factor in fares, taxes and fees, transportation to and from the cruise port, pre and post-cruise accommodations, food before and after sailing, shore excursions, souvenirs, parking, and onboard costs (e.g. drinks, specialty restaurants, spa treatments, gambling, and purchases).
Once you have a budget, stick to it. Sticker shock, when you get your final onboard account balance at the end of a cruise, can ruin what has been perfectly wonderful trip if you do not closely monitor spending on the ship.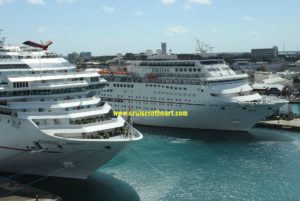 Plan for Your Cruise
Like any vacation, effectively planning a cruise requires effort to ensure that you maximize your investment of time and money. There are many factors that go into deciding which cruise is best for you. Some common factors that can impact your overall enjoyment and satisfaction include:
Cruise policies. Among others, the guidelines related to age requirements for travelers in your party (e.g. who can cruise, alcohol consumption, and gamble), issues related to special needs, and cancellations should all be reviewed before booking a cruise.
Ship size. Ships come in various sizes, so you want to select one that meets your needs. For example, if you are older or have special needs, a smaller ship might be preferred if you want to reduce the amount of walking required onboard. If you are more active, a larger ship with many activities and amenities might better suit your preferences.
Passenger demographics. Who typically sails on the cruise line you are considering? You will likely want to be able to relate to many of the people onboard since you will be spending a lot of time with them. Based on your preferences, consider factors related to typical passengers, such as, average age, home country, primary language spoken, socio-economic background (e.g. affluent or budget-minded), percentage of smokers vs. non-smokers, and number of families with children, solo, or LGBTQ. All of these contribute to your ultimate satisfaction with a cruise.
Cruise length. Cruises can last a couple days or months. The key is finding one that fits your budget, preference, and available time.
Itinerary. Many people book a cruise based on itinerary or its planned ports of call. Make sure that the scheduled ports of call interest you before booking.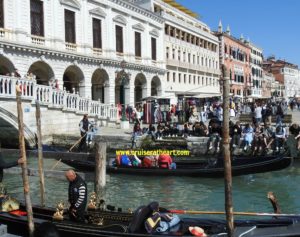 Pre-Book Shore Excursions – 5 Tips to Help Maximize Your Cruise Experience
The cost of tours and activities in ports can add up quickly. There are several ways to reduce these expenses. One is by booking you shore excursions along with your cruise. By doing so, you can get a better price since the cost of excursions go up as your cruise sail date approaches. Also, if you do not book early, you run the risk of a tour you really want to go on filling up.
A second alternative to booking cruises through the cruise line is to go onto the internet to locate local vendors or waiting until your ship docks and then speak to one of the many vendors waiting at the pier to offer such services.
Many people simply forgo excursions all together and simply take a cab, rent a bicycle, scooter, or other transportation to an area that they want to visit. The biggest advantage of booking through the cruise line is that if your tour is delayed for any reason, and you arrive back at the ship after the designated all aboard time, your ship will wait for you. If you go it on your own and miss the ship, you are responsible for all costs associated with catching up to the cruise ship at the next port. If that happens to be another port in the United States, you may also be fined for violating a federal law (The Passenger Vessel Act — also called the Jones Act).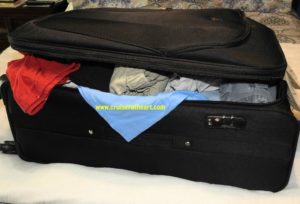 Avoid Over-Packing
This is one of the biggest mistakes made by first time and experienced cruisers. They often fail to plan realistically for what they will need on their trip. A good rule of thumb is to consider the number of days you will be traveling onboard and to and from the ship, then pack enough cloths for half that time. Be realistic and take one pair of walking shoes and a pair of dress shoes. Carry along slacks, pants or skirts in basic colors (e.g. black or navy blue) and several complementing tops or shirts. You can then mix and match these throughout the cruise. For dressier occasions, men can rent a tuxedo and accessories onboard to save space in their suitcase. Even so, they will likely need to carry along formal shoes, especially if they have an irregular foot size. Women can accessorize their clothing with jewelry, scarves, and a light jacket or sweater.
When you are going to dinner and shows or participating in other evening activities, your clothes are not likely to become soiled. There is no reason that you cannot wear an outfit more than once. After all, you will likely never see the people you meet again once the cruise is over!
One nice feature on many ships is their self-service launderette. They also sell small packets of soap powder. If you need something pressed, there are free ironing boards and irons available in the self-service laundry area. Should you not want to spend your vacation doing laundry; ships also provide laundry and pressing services for a small fee.
Build Relationships with Crew Members
The crew members who assist passengers and take care of their cabins, wait tables in restaurants, and perform many tasks onboard during a cruise are hard-working, dedicated professionals who work insane schedules. They are typically on contracts for 6 to 9 months at a time, work an average of 10 to 12 hours a day 7 days a week, and often take on additional assignments on the ship to generate more money to send back home to their families. On most ships, these people are from non-western countries. In many instances, they have worked on cruise ships for years and are experts about their ship and the industry. They are also typically keenly aware of ports of call and can offer valuable advice to passengers. For these reasons, you would be wise to get to know your attendants and waiters as soon as you come aboard. Even though you are pre-charged gratuities that are distributed among the ship crew, you might even want to slip your cabin attendant or head waiter an extra $10-20 dollars (depending on cruise length) on the first day of the cruise. Tell them that you are doing so in anticipation of the great service that you know they will be providing. Chances are that you are going to be asking for special things during your cruise (e.g. ice, corkscrew, assistance with issues in the cabin, special dishes at dinner, or advice on activities and other points related to the chips and cruise).
To show your respect for your cabin steward and other crew members as people, take time to greet him or her whenever you meet in the passageway. Ask about their home country and family, talk about their job, and talk about how things work on the ship. By showing interest and treating them like a person, rather than an employee or servant will go a long way to cementing your brief relationship and will help make your cruise more enjoyable. Another simple thing that I do when I cruise is to buy several small boxes of chocolate candies that have four pieces in them. I hand these out to room attendants and dinner servers during the cruise. While it is an inexpensive gesture, the crew members are always very appreciative and, in my experience, go out of their way to provide a little special attention during the cruise.
By taking time, to do a bit of homework in advance, you can help ensure that you get the best value for your money and have the time of your life when cruising.  Thanks for reading the 5 Tips to Help Maximize Your Cruise Experience by the Cruiser At Heart – Bob Lucas, Cruise Author, and Blogger. Make your cruise enjoyable – read this. To get additional ideas on ways to get the most from your cruises, check out The Complete Guide to Ocean Cruising: Everything You Need to Know for a Great Vacation.