Exploring Amsterdam as a Cruise Excursion
Exploring Amsterdam as a Pre-Cruise or Post-Cruise Excursion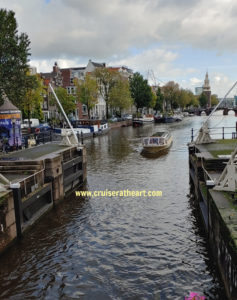 My wife and I have been to Amsterdam (in the Netherlands) twice in 2019. The first when we did back-to-back British Isles and Baltic cruises on the Royal Caribbean Brilliance of the Seas ship. The second was on a cruise up the Danube on the Avalon Artistry II river cruise ship. Both times were thoroughly enjoyable in this vibrant city where historic structures, modern conveniences, good food, and a variety of activities converge.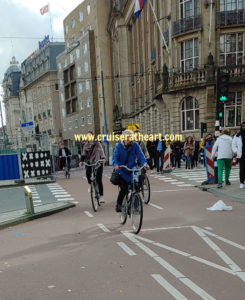 Like Venice, the city has a network of connected canals that facilitate daily life where people live and work every day. Unlike Venice, there are also a network of roads and bicycle lanes that are in constant use and shared by the residents and more than 19 million people who visit the city each year. Speaking of bicycles, there are an estimated 881,000 of them in the city. You see them neatly lined and locked virtually everywhere you go and there are designated bicycle lanes on streets and sidewalks where people speed along on them. With the use of a low "ding ding" from their metal bicycle bells, they rarely slow down for unsuspecting pedestrians (usually tourists) who step into their way. It is not unusual to see motorbikes, scooters, and even an occasional small vehicle designed for people with disabilities, in these lanes. Because of all the traffic in those lanes, you are wise to look left, then right, then left and right again before trying to cross one of them. DO NOT walk in these lanes.
On each of our trips to the city, we have used the many hop on/hop off tourist buses. These are available in Amsterdam and many other cities around the world. They provide an excellent way to inexpensively orient yourself to a city and what it has to offer. These double deck type vehicles provide those on the upper deck an unobstructed view of surroundings because you have a higher vantage point and there is no roof (except in inclement weather) on them.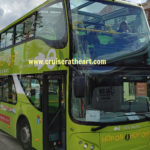 They have recorded narration in multiple languages to point out key highlights and landmarks as the bus winds throughout the city. To facilitate better hearing, we often carry a cheap headset along. These provide more comfort than the cheap earplug type free devices provided on the bus. Those tend to fall out of the ears, especially if you wear hearing aids.
When we ride these buses, we normally stay on for a complete ride around the city in order to identify places of interest. Then, on a second time around the city we get on and off at desired stops. The coveted spots for photos are the four top level front seats. If you are not luckily enough to get them, sit as close to the front as possible and move up as people in them exit the bus.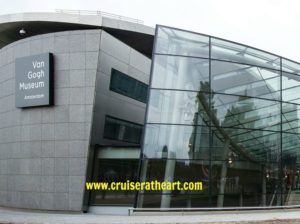 In Amsterdam (and some other cities) the price of the ticket you purchase gets you an added canal boat and/or guided walking tour. Buying online in advance is usually cheaper; however, you can typically get discount coupons in your hotel or at the tourist information booths, or you can simply try negotiating with one of salespeople standing near bus stops hawking the tickets.
Amsterdam has many sights and events that appeal to various people. We had an opportunity to experience a variety of interesting and educational areas and activities when we visited. There are quite a few museums, which focus on art and have excellent exhibitions of Dutch masters, such as, Rembrandt, Van Gogh, Frans Hal, and Jan Vermeer. On our visit in July, we were fortunate enough to get tickets into the Van Gogh museum where they were displaying a series of his famous Sunflowers masterpieces.
Other interesting city highlights included the Joods Historisch Museum, which provides insights into the lives and history of the Jewish community of the Netherlands. Related to that is the Anne Frank House where she hid until being discovered and sent to a concentration camp where she was killed by the Nazis. Unfortunately, we were not able to get tickets to this venue. They are released three months in advance, so if you are coming and want to go, order yours online. If the date that you want to attend is sold out, check each subsequent morning. They release additional tickets at 9:00 each day (Amsterdam time). If you are lucky, you may be able to snag one then.
Educational and Cultural Opportunities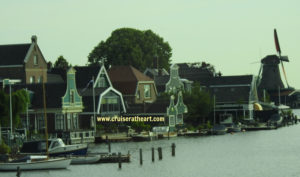 If you are interested in jewelry, there is the Gassan Diamond factory where you can tour an exhibition about diamonds and learn how they are bought, cut, and distributed. You can even change some of your money for your very own precious gem(s). We found our visit to the building to be extremely educational.
Another very cool place to visit is the Zaanse Schans Village area. This is usually offered as a tour if you are staying in the area for a few days, but you can also get there on your own. Once in the village, you will find many photo opportunities and get many traditional Dutch experiences. You will see traditional houses and buildings, windmills, cheese, and wooden shoe making areas, a chocolate factory and more. Cruises offer this experience as an excursion.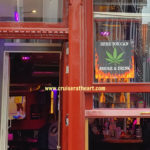 Unexpected Extras – Exploring Amsterdam as a Cruise Excursion
And, while exploring various places during our visits, we got the unexpected experience of walking down a street following a group of people who casually lit up and smoked a marijuana joint, since the drug has been decriminalized in the country. Later, we were told by one tour guide that there are "coffee shops" where one can go to buy marijuana and use the drug, but that if we truly wanted only coffee or tea, that we should go to a café or koffiehuis instead.
If you are confused on where to go for coffee when visiting, look to see that there is not a green and white sticker in the window that indicates the establishment is licensed to sell marijuana. Some places that welcome marijuana use in their establishment will have a sign ion the window indicating that fact.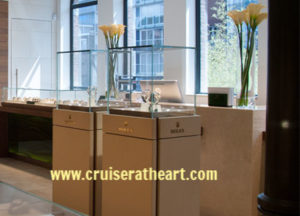 Of course, many tourists would not feel that their visit is complete without a visit to the infamous "red light district" for a tour to learn about this historic section designated for prostitution. Talk about an educational experience!
We did not take an organized tour or visit the Museum of Prostitution but did wander through the area to see if everything we'd heard about it was true…it is!
All in all, we found Amsterdam and its people to be welcoming and well worth a future return trip.