After an absence of over 600 days the Celebrity Reflection returned to cruising from Port Everglades in Florida on November 6, 2022.

The beautifully appointed Celebrity Reflection cruise ship left from Port Everglades in Ft. Lauderdale on November 6 with a little over 1,000 passengers onboard.
Interesting Destinations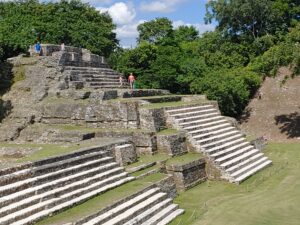 During this tumultuous period local governments and cruise lines are struggling to ensure control of COVID-19. As a result, cruise itineraries often change before sailing; ours was no different.
When I originally booked my cruise, our seven-night itinerary was Key West, Florida, Cozumel, Mexico, Falmouth, Jamaica. and Georgetown, Grand Cayman. That changed and we ultimately sailed to Nassau, Bahamas, Cozumel, Mexico, Belize City, Belize, and Roatan Honduras.
When itineraries change, the cruise line offers passenger options of either taking the cruise, changing cruises, getting a future cruise credit, or getting a refund. Since I have been to most of the original and new destinations, I was fine with keeping my booking. As a result, I met many interesting passengers and crew members and enjoyed our ports of call.
Passengers Were Welcomed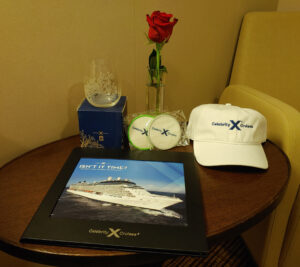 Port employees and crew members made passengers feel welcome in the terminal and onboard throughout the cruise. It was obvious that everyone was glad to be back at work. Crew members and officers out of their way to greet every passenger with whom they had contact. They also looked for any opportunity to provide excellent service throughout the cruise. Overall, Celebrity planned and orchestrated all elements of this cruise well.
Since this was the ship's first cruise since the pandemic, Celebrity went out of the way to make the trip memorable. Every night, cabin attendants delivered plates or boxes containing cookies, candies, and gifts. On the first Chic Night, women received a long stem rose at the theatre entrance and I received one in a vase in my cabin that night. Some other items that I received includes an embossed drinking glass, Celebrity Reflection ballcap and drink coasters, and a lovely commemorative folder containing a signed itinerary from the captain and photos of the ship. I have never before received such gifts on a ship since I started cruising in 1995.
Purpose for Booking the Celebrity Reflection Cruise
This was my second cruise in two weeks, so I was looking to compare my experience with last week's cruise aboard the Royal Caribbean Allure of the Seas. That cruise was one of the best I've experienced in quite a while, so my expectations were high for this sailing. Having traveled multiple times on both cruise lines, I have come to expect a quality product from each of the companies. However, while they are both owned by Royal Caribbean Cruises Limited, there are differences.
Royal Caribbean has larger ships with lower-priced entry level cabins that focus more on family travel. My experience on their ships is that their quality, service, and entertainment is better than other lines I've cruised.
By comparison, Celebrity focuses on a different customer base. Passengers typically expect a higher degree of service and elegance. For example, on the Celebrity Reflection, I noted various types of onboard activities not typically offered on Royal Caribbean ships:
Audio-guided meditation session
Open-play Kinect for Xbox
Arts & crafts: Origami making
Photography basics
Spanish language classes
Podium talks by American astronaut Bill Rothschild
Spa seminar: Chinese herbs for pain & digestion
Adult coloring & watercolor painting
Cooking sessions (e.g., how to cook the perfect steak and a taco workshop)
Exceeding Expectations
This was my first venture onto one of Celebrity's solstice-class ships. One pleasant surprise on the Celebrity Reflection was the size of my cabin. I booked an interior cabin on this cruise because I was traveling alone for the first time in years. When I opened the door on embarkation day, I was pleasantly surprised at the size and configuration. The design was very functional and more than adequate for a single traveler. In fact, it would easily accommodate two guests with room to spare. The cabin had extra storage areas to stash my suitcase out of the way. Normally, my wife and I must put our luggage under the bed in ocean view and balcony cabins.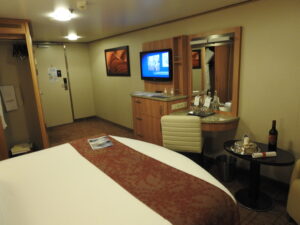 The bathroom and shower in this cabin were both larger than many cabins I've had in the past. For example, I was able to move around and bend over when taking a shower. On many past cruises that was not possible. While it might have been snug in comparison to a home shower, there was enough room for two people to fit inside.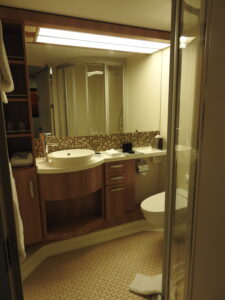 In addition to the added space and activity differences I experienced on this cruise, the types of food available aboard the ship was very pleasing. In addition to the delicious variety provided in the main dining room, the Oceanview Café buffet continually offered a wide array of American and international dishes every day. There were also at least a dozen other options for dining, snacks, desserts, and light meals onboard. While some of those were specialty venues that required an additional fee; others were part of the cruise fare.
COVID-19 Safety Measures
One of the most important things that I wanted to evaluate onboard was how the cruise line was handling COVID-19 safety protocols. When the Celebrity Reflection returned to cruising from Port Everglades, all passengers were required to provide a negative result from an antigen test taken within forty-eight hours prior to embarkation. Eligible crew members and guests had to be fully vaccinated at least fourteen days prior to sailing. They also had to show evidence of their status on embarkation day.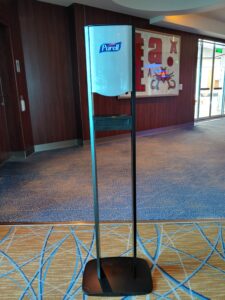 Additional COVID-19 safety precautions that I witnessed included:
Sanitation stations throughout the ship and at the entrance of each restaurant.
Crew members stationed at restaurant entrances ensuring that passengers were using the sanitizing lotion.
Crew members always wore masks; passengers did not have to do so.
Passenger Reactions
I spoke with numerous passengers onboard to get their thoughts about the cruise. Numerous people agreed that the entertainment was not at a level they expected. However, the consensus from most people seemed to be that this was a great trip as the Celebrity Reflection returned to cruising.
Hope for Future Cruising
People are ready to travel again after being restricted from normal activities for over a year. Crew members are grateful to be back onboard and working. Passengers are excited about the opportunity to get out and explore the world on these beautiful vessels. I am one of those people and highly recommend a return to cruising on either Royal Caribbean or Celebrity Cruise Lines for anyone desiring a terrific vacation.
For ideas on selecting the right cruise, tips on the cruise process, ways to save money, and how to get the most out of a cruise vacation, check out The Complete Guide to Ocean Cruising: Everything You Need to Know for a Great Vacation. If you need a professional travel agency that can get you great prices and provides amazing service, contact TBS Travel.