Royal Caribbean International has set an example for a return to safe cruising if my recent cruise on their ship Allure of the Seas is any indication.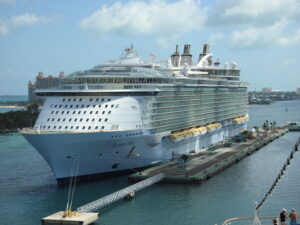 Like many people, I have anxiously anticipated a return to ocean cruising since the COVID-19 pandemic stopped it more than a year ago. After patiently waiting, I recently decided to get back to the seas by booking a seven-day cruise on the Allure of the Seas. The ship is currently the largest cruise ship sailing. It can hold a maximum of 6,780 passengers or 5,484 at double occupancy, plus 2,200 crew members. I chose this ship because I wanted to see how Royal Caribbean was managing CDC recommended passenger safety guidelines. I also wanted to hear from other passengers about their feelings related to post-COVID-19 cruise travel and cruise safety.
Changes Noted Onboard and ashore
Some changes that I noted onboard and ashore included:
Reduced capacity. The ship sailed with a little over 2,600 passengers onboard (a little under 39%). This small number increased efficiency during all phases of the cruise. As a comparison, my previous experience during embarkation on cruise ships has been that it takes more than an hour to complete the embarkation process. This includes going from entry into the cruise terminal to walking up the gangplank of a ship. For this cruise, I arrived at the entrance of the terminal and nineteen minutes later I had gone through processing and was entering the ship.
Additional COVID screening. Staff members outside and inside the terminal ensured that all passengers had met the new CDC safety procedures. They checked COVID vaccination cards and verified that everyone had a negative COVID-19 rapid antigen or PCR test within the past forty-eight hours. Passengers and staff wore masks throughout the entire embarkation process. In total, documentation was verified two times both outside and inside the terminal before passengers were allowed to go onboard. This process continued onboard during the cruise with sea pass cards scanning when you entered and exited the Windjammer restaurant and various venues.
If this cruise process is any indication of how all their future cruises will be managed, Royal Caribbean International has set an example for a return to safe cruising.
Vaccination Guidelines. Vaccination guidelines are continually changing around the world as countries start to better contain COVID-19. According to the Royal Caribbean website:
Passengers aged twelve and over must present proof of COVID-19 vaccination, with the final dose administered at least 14 days before boarding. Passengers under this age do not need a vaccination. They do have to complete COVID-19 testing requirements depending on departure port and length of their cruise.
Masks required. Crew members always wore masks. Passengers wore them in common indoor areas around other passengers when not eating or drinking. Passengers were not required to wear masks when outside (e.g., pool decks or outside walkways) onboard the ships. They were also not required on Perfect Day at CocoCay, except in crowded settings. Additionally, they were not needed in venues designated for vaccinated guests only. Guests under the age of two did not have to wear a mask at any time.
Segregated venues. As an added level of safety and restaurants and some facilities (e.g., spa, fitness center, solarium, chef's table, casino, and certain restaurants) were designated as "vaccinated guests only" areas. Entertainment shows were also identified as either "vaccinated" or "everyone." Masks were not required in events designated "vaccinated guests only."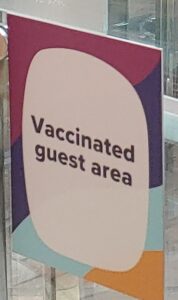 Wristband identification. Fully vaccinated passengers wore wrist bands to help crew members identify vaccination status. Passengers without a wristband could not enter vaccinated only areas and functions (e.g., casino and designated eating and entertainment venues).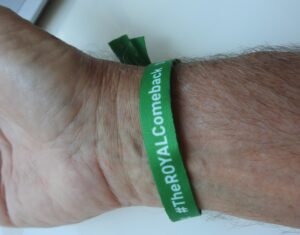 Hand sanitation measures. Signs were common throughout the ship during the cruise. They reminded passengers to wash their hands regularly and use hand sanitizer stations positioned by elevators, stairways, and at the entrance of all venues. Sinks were also installed at the entrances of the Windjammer buffet restaurant and passengers were required to wash their hands before entering to dine.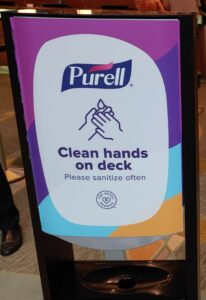 Safety announcements. Informational videos were playing on televisions as passengers entered their cabin on embarkation day. These outlined the safety requirements related to sanitization, mask wearing, social distancing, and emergency evacuation procedures. COVID -19 safety reminder notices also appeared each day in the printed Cruise Compass newsletter placed in each cabin and available in the lobby. There were also signs to this affect posted around the ship.
Port Safety
Another reason that I felt safe taking this cruise is that islands throughout the Caribbean has placed restrictions on who can come ashore. Unvaccinated passengers could not go ashore. Additionally, on some islands anyone coming ashore was required to wear a mask. In St. Thomas, the Governor mandated that anyone without a mask could not receive service in a shoreside establishment. Royal Caribbean also screened excursion operators to ensure they followed CDC safety protocols.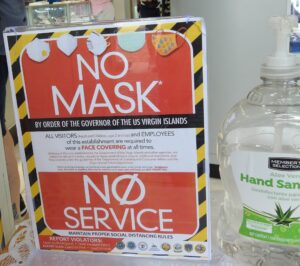 Overall, I was impressed with by what I experienced on this cruise. As usual on Royal Caribbean ships, crew members throughout the ship went out of their way during each contact to ensure that passengers were happy and well cared for. Because of procedural changes onboard, I felt completely safe during this cruise and recommend that anyone considering a cruise after vaccination should call a trusted travel agent to start planning their next vacation.
For information, ideas, and tips related to ocean cruising, check out The Complete Guide to Ocean Cruising: Everything You Need to Know for a Great Vacation.