Cruise Industry Response to COVID-19
The cruise industry response to COVID-19 involves a series of steps designed to help ensure the health and safety of passengers and crew members. As the COVID-19 pandemic spread throughout the world it negatively impacted thousands of businesses and industries. None suffered more damage than the cruise lines. All cruises worldwide ceased operations in 2020 after hundreds of passengers onboard various ships became ill or died from the virus.
Following emergency approval of several vaccines to combat COVID-19, it appeared that scientists were on the way to helping reduce the effects of the virus in 2021. Unfortunately, the delta variant appeared in December of 2020 and rapidly started spreading around the globe. Even so, cruise lines have recently conducted trial cruises with volunteers. After demonstrating that new protocols for ensuring health and safety of passengers worked, various cruise lines (e.g., Royal Caribbean, Carnival, Disney, Celebrity, Viking, Oceania, AIDA, Fred Olsen) have started limited capacity cruising in different regions of the world. While there are some differences in ship procedures, there are common safety and health precautions that all cruise lines have adopted to help ensure the health of passengers and crew.
Travel Requirements
Until the virus can be brought under control, passengers can expect a big emphasis on hygiene, distancing, and practices that limit contact between passengers and crew members. The cruise industry response to COVID-19 has involved consultation with the Center for Disease Control (CDC) and medical professionals who specialize in infectious diseases. Cruise executives have also worked closely with local, state and federal officials to try to implement steps that will allow cruise lines to resume operations. Their key emphasis is on doing so in a manner that ensures the health and safety of passengers and crew. This have resulted in new operational procedures aboard ships.
Some general practices that passengers can expect on future cruises include: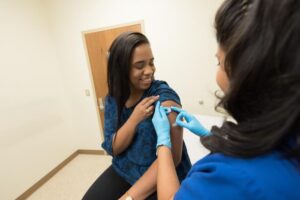 Proof of vaccination. Many cruise lines are following the Center for Disease Control (CDC) guidelines by requiring that some, or all, passengers receive the COVID vaccination before they can board their ships. On some lines this requirement is 95 percent of passengers, which allows children under 12 years of age who are ineligible for vaccinations to travel with parents. However, because of changing health guidelines and restrictions from state-to-state, country-to-county, and by itinerary this mandate varies. Obviously, this causes frustration and confusion for passengers.
Proof of vaccination at least 14 days prior to boarding a ship is now required. Cruise lines require that passengers present one of the following types of vaccination documentation.
CDC Vaccination Record Card (photocopies or pictures of the document are not acceptable).
Government Immunization Information System record.
Personal electronic health record.
Digital COVID-19 Certificate (QR code is acceptable).
Record of vaccination from a healthcare provider (an original digital email accepted)
NOTE: There have been instances of people selling fraudulent vaccination documentation online. Using such documentation is a crime and subjects offenders to fines or jail time. Cruise lines and airlines will likely prohibit travel in such instances and report the attempted usage to law enforcement.
Since policies may vary by cruise line, the best guidance is to check with your travel agent and cruise line before booking. This will help ensure that you understand requirements and are eligible to travel. In any instance, your documentation must show the following:
Name and date of birth that matches the guest's travel documents.
That the passenger is fully vaccinated. This means that the full cycle of required doses for vaccines administered is completed (e.g., the second dose of a two-dose series).
Clearly list vaccination type, dates and lot numbers.
When you go to embarkation, take the phone and email contact information for the clinic or healthcare provider that administered your shots in case there is a question about your vaccination.
If you are traveling to or from the cruise port via air, you should also periodically check the airline and cruise line website. You can find any changes or updates to their vaccination protocols there once you have booked your travel. Additionally, buying a travel insurance policy that specifically addresses cancellation due to a virus is a wise investment.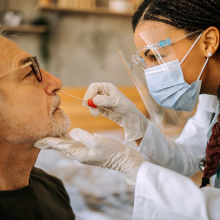 Pre-boarding COVID-19 testing. In addition to mandated vaccinations, cruise lines are also requiring that all passengers show proof of a negative COVID (PCR or antigen) test (typically 1-3 days) before boarding. Failure to do so will likely result in the cruise line prohibiting you to board the ship. Those people (e.g., children under the age of 12 who are ineligible for testing as of mid-August 2021) who are unvaccinated must also undergo testing before boarding. They may be required to retest again during their cruise. Test costs are passed along to passengers as an added expense.
Since the pandemic is so fluid worldwide, each country or travel destination may also have its own testing and vaccination restrictions and requirements. Check with your travel agent and cruise line before booking to determine if such restrictions apply on your itinerary.
Travelers arriving in the U.S. must also retest upon return to the United States. The CDC recommends that all travelers retest within 3-5 days after returning from an international trip. For those who are unvaccinated, a self-quarantine period of 7 days following their cruise is suggested, even if they test negative. If they do not get tested, they should self-quarantine for 10 days.
The following websites have current testing requirements and suggestions for travelers.
What to Expect Onboard
When cruising now and in the foreseeable future, you can expect that numerous processes and procedures have changed. The modifications incorporate recommendations from the CDC and other health agencies. Depending on the cruise line that you choose, you will experience some or all the following:
Face masks. The CDC and other medical sources highly recommend face masks in confined areas to help prevent spreading the coronavirus. Cruise lines are adhering to this recommendation throughout their ships and in confined quarters (e.g., on excursion transportation). Excursion vendors are also being closely vetted to ensure that providers are vaccinated and adhering to preventative health measures when interacting with passengers.
Embarkation. Boarding times are assigned on boarding documents. This limits the time that passengers spend crowded together prior to embarkation. Arriving early could result in you having to wait outside the terminal. This can be an uncomfortable experience because of weather conditions. To avoid this scenario, check in online. Note your assigned arrival time and get to the terminal as close to it as possible. This helps ensure that your onboarding experience will be as flawless and stress free as possible. To further expedite the boarding process, cruise lines are encouraging passengers to use their websites and electronic apps to facilitate check in. Since procedures are likely to change, check with your travel agent and cruise line to determine their process for boarding.
Ship access. Instead of traditional plastic cruise cards for cabin entry, embarking and debarking from the ship, and purchases some lines are now using electronic wristbands. These devices eliminate unnecessary handling of cards during transactions. Unvaccinated passengers receive special identification cards (e.g., a small hole punched in their cruise cards on ships using them) on some lines. These indicate vaccination status and permit passenger access to authorized areas, venues, and shows. Some cruise lines have limited casino usage to vaccinated passengers. Additionally, theatres, entertainment, and performances are segregated based on vaccination status. Some bar areas are designated for either vaccinated or unvaccinated passengers.
Cleaning system updates. To help eliminate the spread of COVID-19 or other possible viral infections, many cruise lines have updated their air handling systems to include HVAC filters that better manage the airflow and block or trap impurities and contaminants. They also use electrostatic fogging systems like those being employed by the airlines to clean cabins and other areas onboard.
Additional sanitation. Cruise lines and employing various initiatives to help prevent the spread of COVID-19. A few common practices used on various ships follow:
Crew members trained to focus on health and safety measures to reduce potential exposure to contaminants.
Intensified cleaning measures used to sterilize common areas and cabins.
Hand sanitization stations located throughout ships.
Crew members positioned at entrances to entertainment and food venues to remind all passengers entering to use sterilizing lotions.
Signs added around the ships to remind passengers to wash hands, socially distance, and wear masks in appropriate locations.
Food buffet. Ships still have buffet areas and passengers can return as often as they like. Operational changes have occurred in these venues.
Instead of self-service, crew members dispense food portions. This helps eliminate person-to-person transfer of germs that can occur when individuals handle serving implements.
Crew members stand at the restaurant entrances to enforce safety protocols.
Additional crew members circulate in the dining area to quickly sanitize tables as passengers vacate them.
Emergency drills. Many experienced passengers bemoan required onboard safety (muster) drills. In the past, mass groupings of passengers occurred at muster stations on decks or in various venues aboard the ship.  Cruise lines are now modifying their safety drill protocols to comply with COVID-19 health recommendations from the CDC and other health organizations. For example, Passengers can watch safety instructions on television screens in passenger cabins on some cruise ships.
While the cruise industry response to COVID-19 will likely continue to evolve, many people are anxious to get onto a ship and explore the world. For further information on what you can expect on an upcoming cruise, visit your cruise line's website or speak with your travel agent. To learn more about cruising and gather creative ideas for planning and maximizing your vacation, check out The Complete Guide to Ocean Cruising: Everything You Need to Know for a Great Vacation.