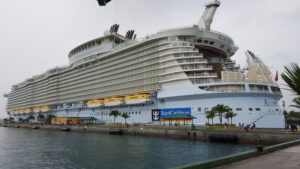 Royal Caribbean Allure of the Seas nailed its post-Covid-19 return to cruising
Royal Caribbean and competing cruise lines have been gone from the seas for over a year. While following the Center for Disease Control (CDC) guidelines published under the Framework for Conditional Sailing Order; cruise lines are slowly moving toward normal operations with ocean cruising. Royal Caribbean Allure of the Seas nailed its post-Covid-19 return to cruising. The cruise line started sailing again in June 2021 and various ships have been brought back into service since. This past week their ship Allure of the Seas proved to me that it is ready to return to business as usual and to WOW its guests.
I have traveled on 15 different ships from this cruise line in the past two decades. One of those previous trips was on the Allure of the Seas. This past week, I sailed on the ship again and I was very impressed by all aspects of my voyage.  I thought I knew what to expect, but I was wrong. I was pleasantly surprised each day by various aspects of the itinerary and onboard operations. From the time I arrived outside the cruise terminal for embarkation, until the time we docked after a week at sea, the cruise was flawless.
Embarkation
Royal Caribbean Allure of the Seas nailed its post-Covid-19 return to cruising. For the first time on any cruise line, I was able to go through the embarkation process and be onboard in only nineteen minutes. This process normally takes over an hour. Granted we were at reduced capacity of approximately 2,600 passengers, but Royal Caribbean also streamlined the boarding process to enhance efficiency and passenger safety.
Rather than allowing all passengers to arrive around noon to one o'clock the cruise line assigned an arrival time at half hour intervals. I arrived fifteen minutes early. Since there were only five people in line, the staff outside the terminal allowed me to begin the embarkation process. At two points outside and two inside the terminal I had to produce my COVID vaccination card and show my negative COVID test results before boarding the ship. Since I had already created my profile and registered online, I went through the normal security scan, had my photo taken, and was then onboard quickly.
Speaking of safety, the company has implemented a process whereby passengers must wear a mask before getting into the check-in line, through four stages of processing, and once they are onboard. Everyone onboard was required to wear a mask. Exceptions were when they were outside or in venues designated for vaccinated passengers only. Crew members always wore masks onboard; even lifeguards standing by pools. They even had to wear masks outside while they worked onboard and on Royal's Perfect Day at CocoCay island water park beaches and pools.
Feeling Welcomed
It truly felt like a homecoming onboard. Crew members often thanked me for being onboard and returning to cruising. Additionally, the Cruise Director, other officers onboard, and entertainers made announcements over the loudspeaker and at various events telling passengers how much they appreciated them coming back. The following announcement was also in our Day 1 Cruise Compass newsletter that was handed out as we boarded and placed in cabins.
"Welcome Back to the Adventure: We are so excited to be reunited – and we hope you are too. A milestone like this deserves to be celebrated. So, get ready for a one-of-a-kind reunion you'll never forget. This is our way of saying thank you for being among the first guests to set sail with us again."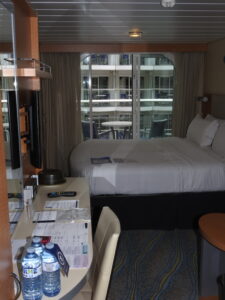 Crew Member Efficiency
I am always in awe that diverse crew members from dozens of countries onboard any cruise ship can work so cohesively together and deliver flawless service. What I witnessed on this cruise was no different. If something did not go as a passenger expected, crew members went out of their way to rectify the issue.
The amazing thing to me is that even though these employees are working long shifts seven days a week for upwards to six months at a time, they always have a smile on their face and seem to honestly enjoy their jobs. This cruise was no exception. I saw crew members laughing, joking with passengers and one another, and singing along and dancing to recorded music in different venues.
While onboard, I spoke to numerous employees doing various jobs on the ship. They stated that they really missed being onboard, helping passengers, and were happy to finally be back under contract with Royal Caribbean. This is true even though they get little opportunity to go ashore during the waning days of COVID. The cruise line implemented this limitation to reduce the possibility that someone might become infected with COVID-19. If that happened, infection could potentially spread to others onboard.
At this point, I'll put in an unsolicited plug on behalf of these hard-working crew members. Most cruise lines have implemented a pre-paid gratuity program where passengers pay crew member tips in advance. Even so, I always encourage passengers to consider tipping cabin attendants, bar staff, dining room waiters, and assistant waiters a bit extra. This is especially helpful for them and appreciated during these trying times. These folks normally come onboard for six-month contracts. They are away from their families and friends and endure those separations so that they can earn money to support their family.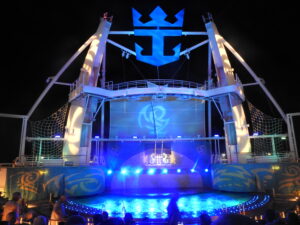 Entertainment
Having traveled on a variety of cruise lines and ships, I have experienced many shows, activities, and other forms of entertainment. Royal Caribbean seems to have pulled out all stops to provide premier entertainment on this ship. The main shows (Mamma Mia), comedians (Phil Palisoul and Jr McCollum), ventriloquist (Kevin Johnson), Aqua Show (OceanAria), and Ice Spectacular (Ice Games) were all top-level performances. They were all some of the best I have seen on a cruise ship. The professionals in each venue have years of experience with the performers for the aqua and ice shows being national award-winning champions in their own sports. The musicians in various venues were also very good and provided continuous live entertainment throughout the cruise.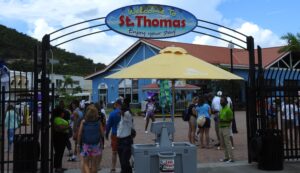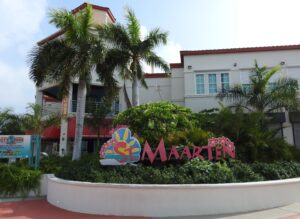 Ports of Call
While we only had two ports of call – St. Thomas and St Maarten – passengers I spoke with said they enjoyed their visits. Locals in both locations also appreciated the return of cruise ships to their islands. COVID was just as devastating to them and their economies as it was in the USA.  COVID safety measures (e.g., distancing, wearing masks, and hand sanitizer) were practiced in stores, restaurants, and other places where people congregated (e.g., confined transport and shopping venues). In fact, the Governor of the U.S. Virgin Islands (St. Thomas) mandated that everyone wear masks and social distance. Signs posted at store fronts that stated: "No mask; No Service."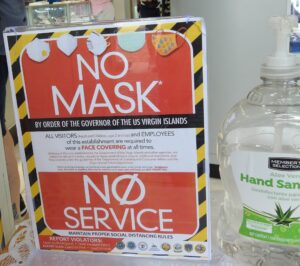 Meal Service
Food served in the main dining room and in the Windjammer was varied and of excellent quality. As usual onboard Royal Caribbean ships, the serving staff and cooks were cordial and professional. Crew members went out of their way to meet passenger requests. As examples, someone at adjacent table did not like what they ordered and was able to have it replaced with another item from the menu. Additionally, I love Indian food. Because I know special dishes are available, I requested that my waiter check with the chef to see what they could prepare. I ended up eating two delicious Indian dishes, pappadam, and roti bread that evening.
On my 6th night of the cruise, I chose to go to the Samba Grill (Brazilian) Restaurant. This was some of the best food I have tasted in quite a while anywhere. For the price, you get a lot of food. If you have never tried one of these types of restaurants, I highly recommend them on your next cruise if your ship has one.
In Brazilian restaurants you may get a variety of grilled veggies (e.g., Portobello mushrooms, squash, zucchini) and appetizers (e.g., pastries filled with tomatoes and cheese, fried plantains, coated rice balls, and yucca). Main course dishes typically consist of a parade of up to eight different roast meats on skewers. Waiters deliver the meats until you indicate that you cannot eat any more. The meat is very tender, virtually melts in your mouth, and has a succulent flavor. Normally, specialty restaurants like this on most ships cost between $49.00-$69.00 dollars. Royal Caribbean is obviously trying to get more people back onboard to generate revenue. As an example, restaurant rates are now ridiculously low. My meal cost $29.00, plus gratuity. Of course, you can always just eat in the main dining room where you will find an excellent selection. Unlike the specialty restaurants, that restaurant is included in your cruise price.
Food for Thought
If you have ever thought about taking a cruise or just want to get back out on the seas; now is an excellent time to do so. Cruise lines are eager for your business and are offering reduced fares and various incentives. Passenger numbers are also being kept low and onboard amenities are being offered at reduced pricing. Visit websites for the major cruise lines to get an idea of what cruises are available. While there, sign up for their email list. You will start receiving all sorts of promotional messages with deals. You can also simply contact a trusted travel agent and let them walk you through the process and make recommendations for your next cruise.
As I said in this article, Royal Caribbean Allure of the Seas nailed its post-Covid-19 return to cruising. I have four other cruises scheduled on three other cruise lines between now and the first of January. On each of these cruises I will be comparing what I experienced on the Allure of the Seas. I do not know about you, but I am ready and excited about getting back to ocean cruising.
For more information and tips of how to get the best values from a cruise vacation, check out The Complete Guide to Ocean Cruising: Everything You Need to Know for a Great Vacation.