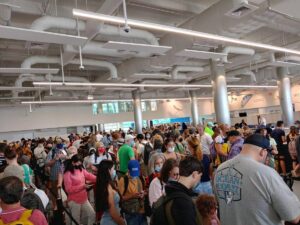 Cruise check-in (embarkation day) is an exciting and chaotic time. It is the gateway to a fun-filled vacation of which people dream. However, to make that passage you must go through various steps at home and the port. With a little forethought and planning, you can make your cruise less stressful.
If you are an experienced cruiser, you will note that embarkation processes and procedures have changed on cruise lines since the COVID-19 pandemic. These changes have occurred in the administrative requirements to cruise and how embarkation is managed at the cruise terminal.
Since October 2021, I have cruised from all four ports in Florida and on major lines sailing from those ports. My purpose was to see how the cruise lines and port employees were managing the return to cruising following COVID-19. The result has been that I believe the cruise lines have done an excellent job in providing a safe environment for cruisers.
Personally, I have felt safer onboard ship during the past 8 months than I did at home in Florida. Onboard, I knew that all employees were wearing masks. Initially, all passengers were also required to wear them. As time has passed, employees continue to wear masks and the requirements for passengers have slowly relaxed. Eventually, masks will likely completely disappear. Additionally, all passengers have been required to take a COVID-19 test within 48 hours prior to boarding and receive a negative result to present at the terminal as part of embarkation.
Cruise lines continue to update their policies and processes. You can find the most current information by checking your cruise line's websites and ship applications (apps). By preparing beforehand, you can make your cruise less stressful and ensure you have everything you need for a great cruise vacation.
Pre-Boarding Tasks
Each cruise line takes a slightly different approach to its booking and check-in process before a cruise. One of the easiest ways to navigate these processes is to use an experienced cruise travel agent. They are familiar with the processes and requirements and have contacts within each cruise line. As a result, they can answer your questions, get information, and intervene when you encounter a problem before, during, and after your cruise.
If you choose to book your own cruise through a cruise line, you will need to become familiar with their website. That is where you will need to complete required forms for embarkation and read, agree to, and print a copy of your cruise contract/ticket. You will also complete other tasks (e.g., printing luggage tags and booking excursions or onboard activities). Even if you use a travel agent, you will be required to complete check-in forms on the website or cruise line app before heading for the cruise terminal.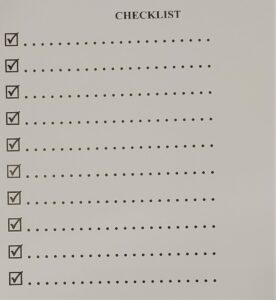 Develop a Plan
Once you decide on the cruise you want to take and make your deposit you will receive your booking document. This lists all the details about your cruise. Make sure that your read the entire document and make sure you understand it to help make your check-in less stressful. You will find a booking (reservation) number, pricing, itinerary, contact information for the travel agent and cruise line, and other essential information about your cruise in the document. Print put a copy in a folder into which you will later place additional paperwork related to your cruise. By starting to organize at this stage, you can make cruise less stressful and are on your way to a more enjoyable cruise.
One straightforward way to ensure that your ship embarkation goes smoothly is to plan. A simple means of accomplishing this is to prepare a cruise checklist. Divide your list into segments to make sure you do not forget anything. Possible categories to include follow.
Administrative Tasks
To help ensure that you do not forget anything related to your cruise, list important tasks you need to accomplish before leaving home. Put a copy of the checklist in your cruise folder and check off the listed items as you complete them. Where needed, put a "by" date beside certain items to remind you of deadlines and list these items on your personal calendar. For example, it can take months get or renew a passport. Check the Department of State website to find requirements and plan accordingly.
Common items to include:
Ensure that you have at least 6 months remaining on your passport and that there are enough blank pages for customs stamps if traveling abroad. To apply or renew your passport, visit https://travel.state.gov. Also, apply for necessary visas if you plan to stay in countries before or after your cruise. Since accomplishing these two tasks can take months, make sure to plan well ahead of your travel dates.
Apply for a Department of Homeland Security (https://ttp.dhs.gov) trusted traveler card if you plan to fly internationally and return to the U.S. This will expedite your reentry into the country. Also, if you register it with your airlines, boarding passes will have TSA Pre-check indication. That will expedite your airport security screening.
Buy foreign currency from your bank or at an international currency exchanger if you are traveling to countries that do not readily accept your local currency.
Get prescription refills and carry a second original prescription with you in case you run out or lose medicine while traveling.
Notify financial institutions (e.g., bankcard and credit card issuers) of your travel itinerary so that no holds are placed on international charges. Find out their policy on foreign exchange rate fees.
While most shops and vendors take credit cards, American Express is often not accepted overseas. If you have a Master Card and Visa card, take both and ensure you have an adequate remaining balance to cover any purchases and expenses you might have. Experienced cruises advise against using a debit card since exchange rates fluctuate and financial institutions often charge an addition exchange fee. These factors make tracking expenditures challenging when traveling.
Contact cellphone carriers to determine their policy for international call fees.
Put holds on mail, newspaper, or other subscriptions.
Pre-pay any bills that will come due while you are traveling.
Logistical Tasks
Make sure that you take care of tasks related to your car and home to make embarkation day less stressful. Tasks might include:
Get gas, oil changes, or other necessary maintenance for your car if you will be driving. Should you plan to rent a vehicle, make sure you do so in advance to get the best rate.
Complete home related tasks like the following.
Lock all windows and doors.
Set air conditioner/heating at appropriate levels.
Check settings on your pool and sprinkler system, if appropriate.
Cover water pipes if you live in colder areas and travel during the winter.
Arrange for someone to cover outdoor plants during colder months when snow and frost are a problem.
Give a trusted friend or family member access to your home and ask them to periodically check things for you and water indoor plants.
Arrange for pet care.
Lock jewelry, valuable items, and guns in a safe.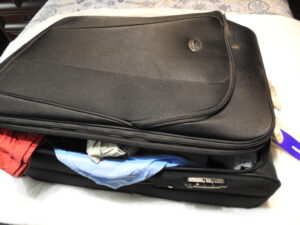 Packing for Your Cruise
One of the biggest mistakes cruisers make is to pack more things than they will need for a trip. Look at your cruise itinerary and pack accordingly.
Typically, on a 4 to 5-day cruise, there will be at least one night when people wear fancier clothing. On longer cruises, there will be multiple days where you may want to dress up for photos which will typically be taken around the vessel by ship photographers on most cruise ships. While some cruise lines seem to be adopting a more informal dress code others (e.g., Cunard and Holland America) still adhere to a dressier policy for dinner in main and specialty dining rooms. Cruise lines may describe the dressy code with terms such as, "fancy," formal," "smart casual." In such instances, suits/jackets and ties are suggested for me while women can wear dresses or pantsuits. Check with your travel agent or cruise line to determine what the dress code will be for your cruise. Other than those dressier occasions and venues, you can wear a variety of clothing with limitations (e.g., no flip flops, bathing suits, tank tops or less casual wear) in sit-down restaurants. Buffet areas normally require shoes, shirts/blouses, and swimsuit coverups.
When going on a cruise, think in terms of things you will need when boarding and immediately before or after embarking. Next, think of things that you will want to access until your luggage arrives at your cabin later in the day. When you arrive at the cruise terminal, you will drop off large luggage at the curb and carry a smaller bag or backpack onboard with you.
Carry-on baggage
Things people often put in their hand carried baggage include:
All cruise related travel and boarding documents, trip itineraries, passports, visas, COVID vaccination cards, negative COVID test results, airline/train tickets, hotel and ground transportation reservation documents, and cruise parking information.
Prescription drugs.
Medical accessories for vision, hearing, or other devices. Also, carry a face mask since it must be worn on airplanes and in public transportation terminals (airport and cruise) until that requirement is rescinded.
Jewelry or valuables.
Electronics (e.g., charging cords, camera, cell phones, headphones, tablets, laptops, memory cards or flash drives).
Reading material such as books or magazines.
Playing cards or games.
Bathing suit or trunks, if they want to go to the pool areas or to change clothing while awaiting cabin access.
Inflatable airline neck rest.
Checked baggage
Anything that you do not need immediately upon boarding should go into your checked (drop-off) baggage. To maximize space, think of the number of days for your trip. Consider onboard and shoreside activities in which you plan to participate, then half the number of items you will take. Additionally, take only one pair of sturdy and comfortable shoes for daily and beach wear, plus a pair of dressier shoes for dinner outfits.
Decide what clothing will be needed for various events, then pick basic colors. Mix and match outfits each day. This allows you to reduce the quantity of items you will need. You can wear items more than one day. You can simplify your clothing needs by eating in the buffet restaurant or other casual venues onboard allows you to wear resort casual clothing (e.g., shorts, pullover or t-shirts and blouses). These simple steps can help make your cruise less stressful.
Most cruise ships have onboard laundry services and may offer dry cleaning or pressing. You may also find self-service laundromats that passengers can use onboard for a small fee. Check with your cruise line or travel agent to see if the ship you book has such services. If you plan to use the latter, buy small packet of laundry detergent to pack. You can find travel sized packages in supermarkets, discount stores, and major drug store chains at home of ashore at ports of call.
The truth is that you will probably never see the people you meet on your cruise again. Even if you do, they are not likely going to remember what you wore during your vacation unless it was very extreme.
Should you decide to take extended cruise vacations (e.g., a repositioning transatlantic or transpacific cruise followed by a separate land trip) consider taking two separate suitcases. Put all cruise related clothing in one bag and everything else in the other. Once you finish the cruise, ship your second unneeded suitcase home. This simplifies travel as you move from one location to another. It can also save you additional second baggage charges with airlines. Search the Internet for "international baggage shipping companies" to identify companies that facilitate luggage shipments.
Do not forget to take a bright colored TSA approved baggage strap (one with a combination lock to which the TSA has a generic key for inspection). This will aid in securing contents and quickly identifying the bag at airline and cruise terminals.
By taking time to think about your cruise in advance and doing the planning mentioned in this article, you can easily make your cruise less stressful. That will help ensure an enjoyable vacation for you and those with whom you are traveling.
For additional ideas on ways to maximize your cruise vacation, get a copy of The Complete Guide to Ocean Cruising: Everything You Need to Know for a Great Vacation.