In today's world COVID-19 can be a nightmare for cruisers. After months of planning and dreaming about a special vacation aboard a beautiful cruise ship, the last thing in your mind is contracting the COVID virus. Still, it can happen. As I draft this article from my isolation cabin, I can tell you this is not what my wife and I planned on our first cruise to northern Alaska. My intent in writing this article is to answer the question "What happens when I test positive on a cruise."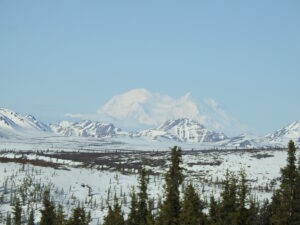 The Beginning of Our Dream Cruise Vacation
My wife and I had originally planned this cruise for 2019. Due to COVID, we rescheduled for 2020, 2021, and finally this year. We opted to cruise the Royal Caribbean Radiance of the Seas during the last two weeks of May because the weather is not normally as cold or wet. We added their seven-day pre-cruise tour package to explore Fairbanks, Denali National Park, Talkeetna, and Anchorage, then on to Seward for a whale watching cruise in Resurrection Bay. It was amazing. We had perfect weather each day with the sun glistening off snow on the surrounding mountains. I even wore shorts and a short sleeve shirt the second day in Fairbanks because I was so warm the first day in winter clothing.
I highly recommend this add-on if you go to Alaska. During our seven days we saw multiple moose; one of which was giving birth in a drainage ditch. We also saw caribou, eagles, porcupine, and a variety of birds and small animals. Unfortunately, around the sixth day of the tour, the host announced that several members of our group had tested positive and got off the bus. This was the beginning of the rest of my story and prompted my question of what happens when I test positive on a cruise?
Prior to boarding our cruise ship in Seward, Alaska we spent the last day of our land tour on a boat ride to the Wilderness Lodge on Fox Island. It lies about forty-five minutes from Seward's marina area. We had lunch then reboarded the boat to head to a popular place for watching whales, porpoises, sea birds, and sea lions enjoying themselves in the water. It was exciting to see all these magnificent creatures in their natural habitat.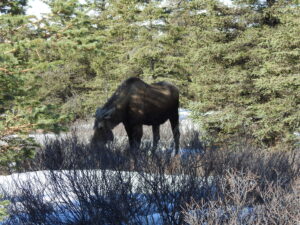 What Happens When I Test Positive on a Cruise?
At the end of our seventh day on the land tour (Friday), we boarded the Radiance of the Seas. I felt fine all day but was fatigued because I had only gotten about six hours sleep the night before. During the first night onboard, I started coughing and alternated between chills and sweating. I slept almost twelve hours that night but had to get up during the night for bouts of diarrhea. When I went to breakfast in the Windjammer buffet the next morning, I realized that I had no taste and only ate a couple strips of bacon and drank cranberry juice.
Upon returning to our cabin my chills started again, so I got back into bed and slept some more. There were more episodes of diarrhea throughout the day.
Around two p.m. I used one of the COVID home test kits we had brought with us (I recommend you considering bring along a couple kits). The result was positive, so I called the medical facility. They sent a technician up to retest me and to test my wife.
A nurse called shortly thereafter to inform me that my wife tested negative, but my test was positive. She instructed me to pack all my clothing because I would be relocated to the Red Zone after a doctor came to examine me. When the doctor arrived, he found that I had an elevated temperature and asked questions about medications I take. Before he left, he gave me multiple packets of Addaprin (Ibuprofen) tablets for the fever and packets of Acetaminophen for sinus pain and pressure. I also received a digital thermometer and was told to monitor my temperature.
Move to the Red Zone
Isolation cabins are in an area of the ship known as the "Red Zone" located not far from the medical unit. The cabins are typically in the ocean view category no matter what type you originally booked. They are equipped with a negative-pressure system designed to prevent particulates from escaping when the door is opened. The zone passageway has a closed fire door on either end. Only authorized personnel with full Personal Protective Equipment (PPE) are supposed to enter the area.
About an hour following the doctor's visit, three crew members in full PPE gear showed up to escort me to Red Zone. One supervised, one carried my bags, and a third followed behind with what looked like a large portable hair dryer. Apparently, it was an air ionizer or sanitizer. I was taken through the crew hallway to a waiting cargo elevator and down to the fourth deck where the isolation cabins are located.
Approximately twenty-four hours after I entered my cabin, my wife developed symptoms like mine. She used another home test we brought and tested positive. She soon joined me in isolation after going through a screening process similar to mine.
During the first two days I remained very fatigued, coughed, and experienced hip and lower spine discomfort. By the end of the third day (Tuesday) the pain had almost gone away, and the cough subsided. I felt almost "normal" at that point and was optimistic that I would show negative results with my test on Thursday. Unfortunately, both my wife and I were still positive on our retest.
On the last day of our cruise, we were told to pack our bag and be ready to be escorted off the ship after all other passengers were disembarked. Along with approximately forty other isolated guests, we were escorted through the crew passageway to the basement of the terminal where were loaded onto a bus. That bus dropped passengers off at various hotels in Vancouver that we had selected in advance.
We were originally planning to quarantine for an additional four days. However, we tested negative Friday morning, so we took a bus across the U.S. border to Seattle. In a strange twist of health rules, if you fly into the U.S. you have to produce a negative test to cross the border. However, if you drive or take a taxi or rental car, you are allowed to enter without a test. Similarly, you do not have to produce a negative test to fly domestically. We stayed in a hotel at the Seattle airport overnight and flew home as planned on Saturday.
Cruise Line Policies Differ
In answer to "What Happens When I Test Positive on a Cruise?" each cruise line might manage isolation of COVID guests in slightly different ways. Even so, they all basically follow Center for Disease Control (CDC) guidelines.
The following is how Royal Caribbean handles positive cases. Her sister line (Celebrity Cruises) follows similar procedures.
If you report cold-like symptoms to the ship's medical unit, you will be assessed for COVID-19. As I described above, a positive test result means that you will be transferred to what is known as the "red zone" on some ships for up to seven days (as of June 1, 2022 – guidelines continue to change). In other words, you are put into a segregated section of the ship and isolated from other passengers and family members who have not tested positive. At the end of five days, you are retested. A positive test keeps you in isolation, while a negative test means that you can return to your cabin. In that instance, you must wear a tight-fitting mask and eat all your meals in your cabin.
During your time in isolation, cruise lines will do the best they can to make things tolerable for you. On Royal Caribbean, the Guest Services Manager or Director will contact you after you start isolation. That person will explain the support you will receive from the ship. He or she will also reach out to you daily explaining next steps and keeping you informed of things you may have to do (e.g., completion of locally required forms if entering or exiting another country).
The medical unit staff will be your point of contact for testing and isolation-related questions.
You will receive all your meals through room service, but you do not to have to pay for the food or delivery. Even so, you may want to tip the crew members who deliver your food people because they normally receive an automatic eighteen percent gratuity on food deliveries. They depend on that money to help supplement their income and support their families.
You are allowed to order from any of the onboard complimentary restaurants. If you want to order from a specialty restaurant, you may do so. In such instances, you will be charged for the food, but not the delivery by room service.
Assistance That the Cruise Line May Offer for You
Check with your cruise Guest Services Manager or Director to determine the line's policy. The following is a summary of support provided by Royal Caribbean as of June 1, 2022:
-Assistance getting off the ship at the end of the cruise if you are still in isolation up until disembarkation.
-Transportation to a local hotel if you are continuing to isolate there.
-After your isolation period, the cruise line will help in coordinating travel arrangement to get you and members of your traveling party home. They will pay airline ticket change fees but will not be responsible for additional ticket costs. Check your travel insurance policy to determine if reimbursement is possible.
-Someone from the health unit will follow-up with you daily to check on your status and provide any additional medical assistance you might require.
-No charges are made for medical services related to isolation.
-Unlimited ship-to-shore calls via the ship's communication system at no cost. All I had to do was call the front desk and ask them to place a call and transfer it to my room.
-Free unlimited wi-fi and a pro-rated refund for the prepaid package I purchased for the cruise.
-Reimbursement for excursions booked through the cruise line.
-If you do not live within driving distance of the port and require additional isolation after disembarkation, you can choose to make your own local hotel reservations. The cruise line will reimburse up to $250 USD per room, per night up to five days. Meal costs up to $100 USD per person, per day will also be reimbursed.
-Up to $150 USD for a car rental or service if you live within driving distance of the port and plan to self-isolate there.
While contracting the COVID-19 virus is not something that anyone wants, it can occur. By having a better understanding of "what happens when I test positive on a cruise" you can mentally prepare if you get the virus. Knowing who to contact and what questions you might ask can sometimes reduce your stress level. It can also help ensure that you get the assistance available to you through the cruise line.
For additional information on how to save money, educate yourself about ocean cruising, and maximize your next cruise, check out The Complete Guide to Ocean Cruising: Everything You Need to Know for a Great Vacation.