Ten Reasons Why You Should Cruise
Why You Should Cruise:
There are many reasons that people decide to climb aboard one of the huge floating cities of the seas known as cruise ships. Some love the carefree experience awaiting them, while others enjoy meeting new people from various backgrounds and cultures while enjoying all that a cruise has to offer. Still, other passengers simply enjoy traveling to a variety of new and interesting places as they glide silently across the vast oceans and seas of the world.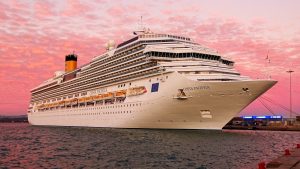 Look at cruising as a superior alternative as a one-stop smile experience in which you visit a single location and have limited access to vacation-related opportunities. There is little more relaxing than boarding an eloquently designed cruise ship and letting it take you on a relaxing cruise to whatever destinations you have selected. A ship is much more comfortable than dealing with airports and being jammed about an airliner to go somewhere.
Cruising is a relaxing experience…
For example, if you have the time, are flexible, and want to travel across the Atlantic or the Pacific Ocean for a vacation, you could take a repositioning cruise rather than face the hassle of flying.
Rather than dragging suitcases through airports. Having to deal with long security lines, then getting on and off of a series of planes. Further, sitting stationary for hours in a seat designed for various small people, and eating peanuts and dry pretzels — you can board a luxurious cruise ship.
You then travel leisurely and be served great food all day. Then, you get to stop at interesting places en route and have a staff of trained crew members to take care of you.  A cruise can be as active or relaxing as you make it and for the price, you get a great bargain compared to air and land travel packages.
The following are additional reasons for 'why you should cruise' and that you may want to join millions of people who choose to set sail on a cruise ship each year.
#1 – Excitement
There is an internal excitement that grips you the first time you arrive at a cruise port to board one of the marvels of the seas that will carry you to places you have likely never been. As you
arrive at the embarkation terminal and see one of the massive seagoing structures beside it, you cannot help but start to anticipate the wonders that await you.
#2 Value
Cruise vacations are an excellent choice for the financial investment that you make. When comparing one to a traditional vacation, consider the fact that once onboard, your living quarters,
meals, activities, transportation, and entertainment are all included in the basic cruise fare. So let break this down on a daily basis, you can often find fares from $100 dollars per person per day.
That depends on the ship, cabin selected, when you travel, itinerary, and other factors.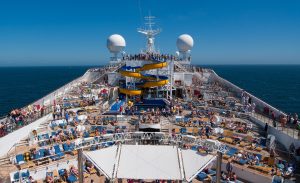 #3 Comfort
Cruise lines go to great expense to install and update the furnishings and décor aboard their ships frequently. They do so to create passenger-friendly environments and provide aesthetic beauty and comfort for a diverse passenger population. The public areas onboard are visually appealing,
colorful, and tasteful, with plenty of comfortable places to meet, sit, and talk to fellow passengers. Cabins are also designed for efficiency and to provide amenities commonly available in a hotel room.
In a typical stateroom today, you find upscale bedding, a flat-screen TV, safe, telephone, refrigerator, hairdryer, closet, several mirrors, shower, dresser with drawer space, couches or chairs, small tables, and twin beds that can be joined together for a queen size. Interior cabins have no windows, although some newer ships (e.g. Royal Caribbean) provide floor to ceiling high definition virtual screens that have projected images from outside to give the illusion of a window. Smaller exterior cabins have round portholes looking out to the water. Oceanview cabins and promenade types (ones overlooking the interior park and shopping areas on some larger vessels) have windows. Balcony cabins have sliding glass doors.
These amenities vary from one cruise line and ship to another and are based on the category of the stateroom that is booked. Always ask your cruise agent to verify what your cabin will have before booking to make sure it will meet your needs and expectations. You would not want to show up expecting a specific feature and end up being disappointed on your cruise.
#4 Convenience
Cruise ships are not just a form of transportation. They are floating resorts with many of the amenities you might expect in an all-inclusive land-based vacation property. They are mostly
pre-paid, hassle-free vacations where you unpack once. You do not have to change rooms, meals are included within walking distance, and there is a professional staff to handle all the details of
the trip for you.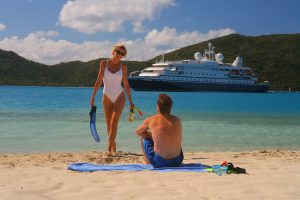 #5 Relaxation
Other than cruising, there are few other vacation options where you can come aboard, unpack, disconnect from technology if you like. You can relax and see the world, and just unwind. Throughout your cruise, you will discover fun and relaxing ways to occupy your time. Each person has a different vision of what soothes them and what they like to do when on vacation.
For example, if you prefer a more solitary experience, one option is to lounge by a pool. Another would be to visit the deck as you listen to the waves splash against your ship while you read a book. Prefer to see a movie in your cabin or on an onboard screen, ice skate, play putt-putt golf, try a zip line, play bingo, or participate in a trivia or poolside competition?
Are you a food lover? Or someone who enjoys relaxing with a drink with family or friends? Maybe playing cards or board games in the card room? There are numerous options for all those activities as well. How about a relaxing massage, steam bath, hair or nail treatment? Want to be more active with a run or walk above deck or time in the gym? Many ships have all these options and more waiting for you.
#6 Variety of Food Options
One thing cruise passengers do not have to worry about is whether they will get hungry. Most ships offer some type of food 24 hours a day. Cruise lines have chefs on board who have been trained in some of the best culinary schools in the world. Cruise ships are a virtual utopia for those who enjoy trying different types of cuisine served at their table. Special requests for different food types
(e.g. vegan, salt-free, gluten-free) are not a problem because each ship has a staff of trained chefs and assistants ready to fulfill passenger requests.
Depending on the ship you choose, there are buffets, pizza parlors, ethnic food (e.g. Mexican, Indian, Japanese, Italian, Chinese), hamburger and hot dog stands, formal, informal,
and specialty restaurants. The latter serve higher qualities of food and more formal ambiance than what is provided in other onboard restaurants. They also charge a fee.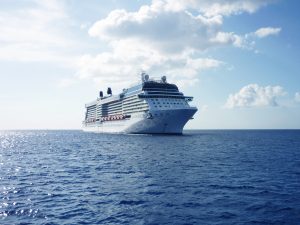 #8 Entertainment
There is a myriad of activities onboard many ships to keep passengers busy. Even so, cruise lines have a variety of entertainers traveling the seas to awe, inspire, and keep guests busy. The scope of entertainment aboard many ships continues to expand each year. As various cruise lines strive to beat their competition in attracting cruisers and gain customer loyalty. While many ships have their own staff of in-house entertainers who sing, dance, and perform, others have stretched the boundary of passenger entertainment.
In recent years, some cruise lines have spent millions of dollars on contracts to provide Las Vegas and Broadway-quality shows. These include but are limited to Grease, Blue Man Group, Jersey Boys, Frozen, Mamma Mia, West Side Story, and Cats. They regularly bring on a stream of professional entertainers. Such as acrobats, magicians, singers, dancers, ice skaters, comedians, and other such professionals to provide entertainment. This is hopefully meant to appeal to the wide variety of cruise passengers.
For example, in addition to Broadway-class shows, Royal Caribbean Cruises Lines has built what they term Aqua Theatres at the rear (aft) end of their gigantic Oasis-class ships. There, former Olympians, world-class and national champions from around the world, and other professional divers and acrobats participate in aquatic and comedy shows. Performers often dive from two 30-foot platforms during each performance. Keep in mind that this occurs as the ships are cruising across the oceans and seas.
Activities
There is virtually something for everyone on a cruise ship. The following are just some of the things you might experience on your cruise.
 Sports
 Spas
 Fitness activities
 Enrichment classes
 Games
 Contests
 Variety shows
 Comedy shows
 Dancing
 Karaoke
 Camaraderie
 Shopping
 Shore excursions
 Food, food, food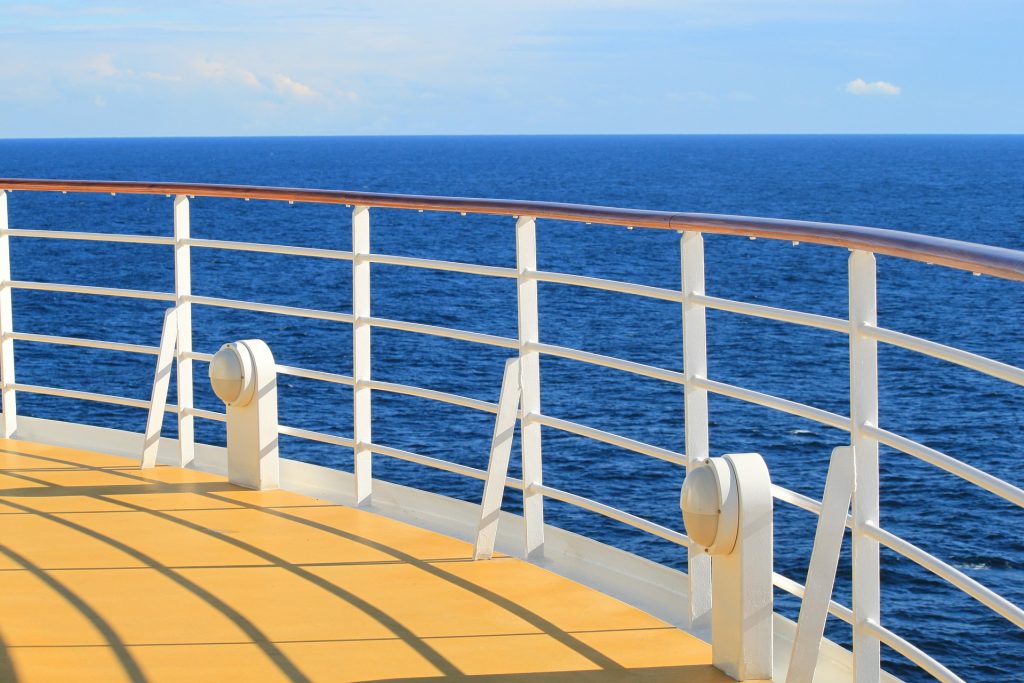 #9 Bonding with Family and Friends
Whether you travel with a spouse or significant other, additional family members, or friends, a
cruise offers a wonderful opportunity to participate in activities to create memories that last a lifetime. While onboard, you have time to get together to play games, talk, or participate in a variety of fun activities.
Once ashore, you can explore amazing parts of the world that you may never have experienced and learned about various people, cultures, and locations.
If you travel with children, teens, or tweens, most cruise lines have "kid zones" or
programs supervised by trained crew members who oversee a variety of fun activities to entertain while they interact with your younger travelers.
Many larger ships have game rooms. Plus they have sports areas where participants burn off that excess energy they always seem to have. While the children are off making new friends and having fun. Parents and the adults can lounge by a pool, hang out in one of the many public venues, or just enjoy socializing and chilling out.
#10 Excellent Customer Service
The crew members onboard most cruise lines are diverse and well-trained to serve the needs of upwards to thousands of customers on any given cruise. Their population on larger ships often
represent upwards to 60 or more countries and cultural backgrounds. These folks work 12 or more hour shifts daily, 7 days a week, for 3 to 6 months at a time, yet still manage to appear happy. Typically, they are hard-working, efficient, professional, and very friendly. When a passenger makes a request, these crew members generally go out of their way to fulfill it. Compare all this to service employees you often encounter at home in retail and other services establishments and the experienced crew members provide onboard is quite amazing.
About Cruiser at Heart and Bob Lucas – Cruise Blogger and Award-Winning Author
Cruiser At Heart was created and is managed by Robert (Bob) W. Lucas,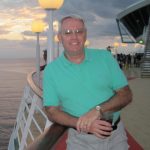 who is passionate about cruising, world travel, meeting people, and sharing information with others. He has visited, lived, and worked in over 50 countries on four continents. He and his wife, MJ, took their first cruise in 1994 and have not stopped since. Robert aka Bob shares his travel experiences about the wonderful people and cultures he has experienced, along with tips for maximizing a cruise vacation.
When not cruising, Bob is the President at Robert W. Lucas Enterprises the parent company of Success Skills Press. He is an internationally-known, award-winning author of thirty-nine books, compilations, and video training guides. Bob Lucas has published hundreds of articles on a variety of workplace performance, self-help, and reference topics. His latest book The Complete Guide to Ocean Cruising: Everything You Need to Know for a Great Vacation. During his career as a human resource development professional for over 4 decades, he shared his adult learning and business expertise with thousands of people from around the world. Bob has been listed in Who's Who in the World, Who's Who in America, and Who's Who in the South and Southeast numerous times.