The Complete Guide to Ocean Cruising: Everything You Need to Know for a Great Vacation
Hello friends, thanks for taking the time to visit my blog, Cruiser At Heart. The Complete Guide to Ocean Cruising: Everything You Need to Know for a Great Vacation is most recent book by yours truly, Bob Lucas. As you may already know that I am an award-winning Author and Blogger.  I hope you are finding the content valuable and will take the time to comment on articles that you read.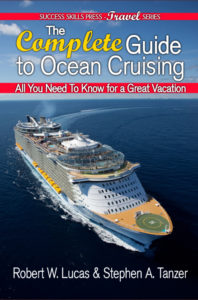 I am excited to announce the recent release of my latest book, The Complete Guide to Ocean Cruising: Everything You Need to Know for a Great Vacation. The book was published by Success Skills Press and written with my colleague, Steve Tanzer. He is an experienced cruise advisor and a seasoned world traveler.
For years, Steve and I have both traveled the world with our wives on a variety of cruise lines and ships. In that time, we have seen the good, bad, and ugly related to ocean cruising. We have also heard many stories about cruising from people with whom we have come into contact. That is why we wrote this book. We wanted to share our experiences and those of others, along with lessons that we have learned from taking over one hundred and sixty collective cruises.
The suggestions included in The Complete Guide to Ocean Cruising are for new and experienced cruisers alike. They provide a comprehensive approach for identifying, booking, and enjoying cruises that meet your needs, expectations, budget, and preferences. We are certain that the information provided will enhance your cruise knowledge and help maximize your cruise experience.
Whether you are new to ocean cruises or just curious about how they differ from river cruises or other types of traditional land-based vacations,  The Complete Guide to Ocean Cruising is for you. In it, you will find explanations about the cruise industry, cruise process, helpful tips for saving money, a resource section with useful cruise-related information, and answers to virtually any question you might have about this form of travel. To learn more about the book or to purchase, please visit my website.
If you decide to purchase the book, I would appreciate you providing an honest review to share your opinion on the Amazon or Barnes and Noble websites. If you do that, email me to let me know that you have completed the review and provide your mailing address; I will mail you a free resource on seasickness prevention.
Further, if you have ideas for other cruise-related content that you would like to see posted on this blog, please contact me. Also, please register to receive future announcements about new products that I develop.
HAPPY CRUISING!